The following materials have been designed to assist parishes in promoting, educating and spreading the word about the 2023 Catholic Ministry Appeal.
Throughout the year, more resources will be added, updated and shared with parishes.
Planning and Execution
Parish Best Effort Implementation – Definition of Best Effort and Extraordinary Effort for parish implementation
Timeline – Timeline & Plan of Action for the Catholic Ministry Appeal
Gift Remittance Process – Procedures established to expedite the remittance of gifts and commitments.
Ways to Give – Downloadable handout with breakdown of gifts accepted.
Lay Witness Guide – Handout with tips for presenters and detailed answers to questions like: What is a witness presentation?, Why should we include witness presentations in our Catholic Ministry Appeal effort?, Who would make a strong witness? and When should the presentation take place?
Video Recording Tips – Tips and tricks on recording a testimonial video.
Parish Implementation Timeline – Logistics tool for parishes to monitor due dates, tasks and completion dates to stay on task with Best Efforts or Extraordinary Efforts
Parish Planning FAQ – Tool for parishes to assist team members in answering frequently asked questions
Team Responsibility Worksheet – Handout for parishes to delegate parish leadership team members, responsibility, and contact information
Parish Planning Meeting Worksheets
Case Summary – Handout for parish leaders to monitor multimedia platforms, submission deadlines, and contact person and information
Communications – Handout for parish leaders to monitor multimedia platforms, submission deadlines, and contact person and information
Lay Testimonial – Handout for parish leaders to delegate and refer to for Catholic Ministry Appeal Lay Testimonial presentations
Promotion Materials – Active Phase
2023 Main Video
2023 Social Media Teaser Video – Click here to download
Logos for Digital Materials
Brochure – Included with Bishop Parkes' mailing to historical donors in November 2022 and to all other households in January 2022 – English | Spanish
Flickr Album – Click here to be redirected to the Catholic Ministry Appeal photo album.
Catholic Ministry Appeal Prayer
PowerPoint – English Prayer
"Ministries in Action" Bulletin Inserts – Active Phase
Ministry Highlights

Kick Off Weekend | First Issue (2022 accomplishments and looking ahead at 2023)
"Encountering Christ in each other" – Good Samaritan Project (Ministry to Youth and Young Adults)
"Partnering together" – Shelters of Hope (Catholic Charities)
"Imparting clarify and confidence" – Ministry to Priests
Commitment Weekend | Last Issue (Giving options – online, QR code, and mail)

Spanish – PDF (Coming soon!)
Coming soon! – 33×84″ Diocesan Rollout Banner – Ordered directly from the Diocesan website
Offertory Envelope & Design – Click here to download a print-ready PDF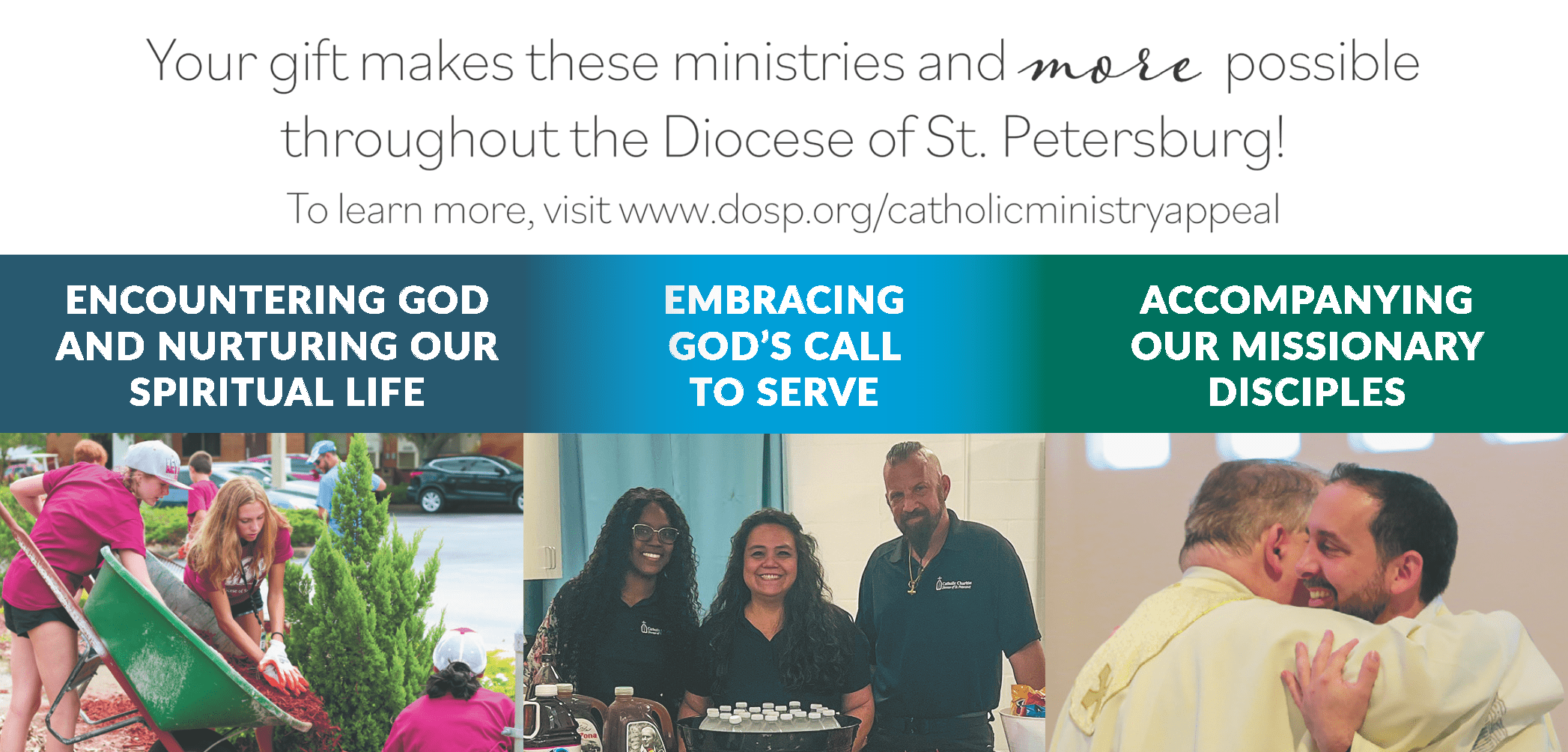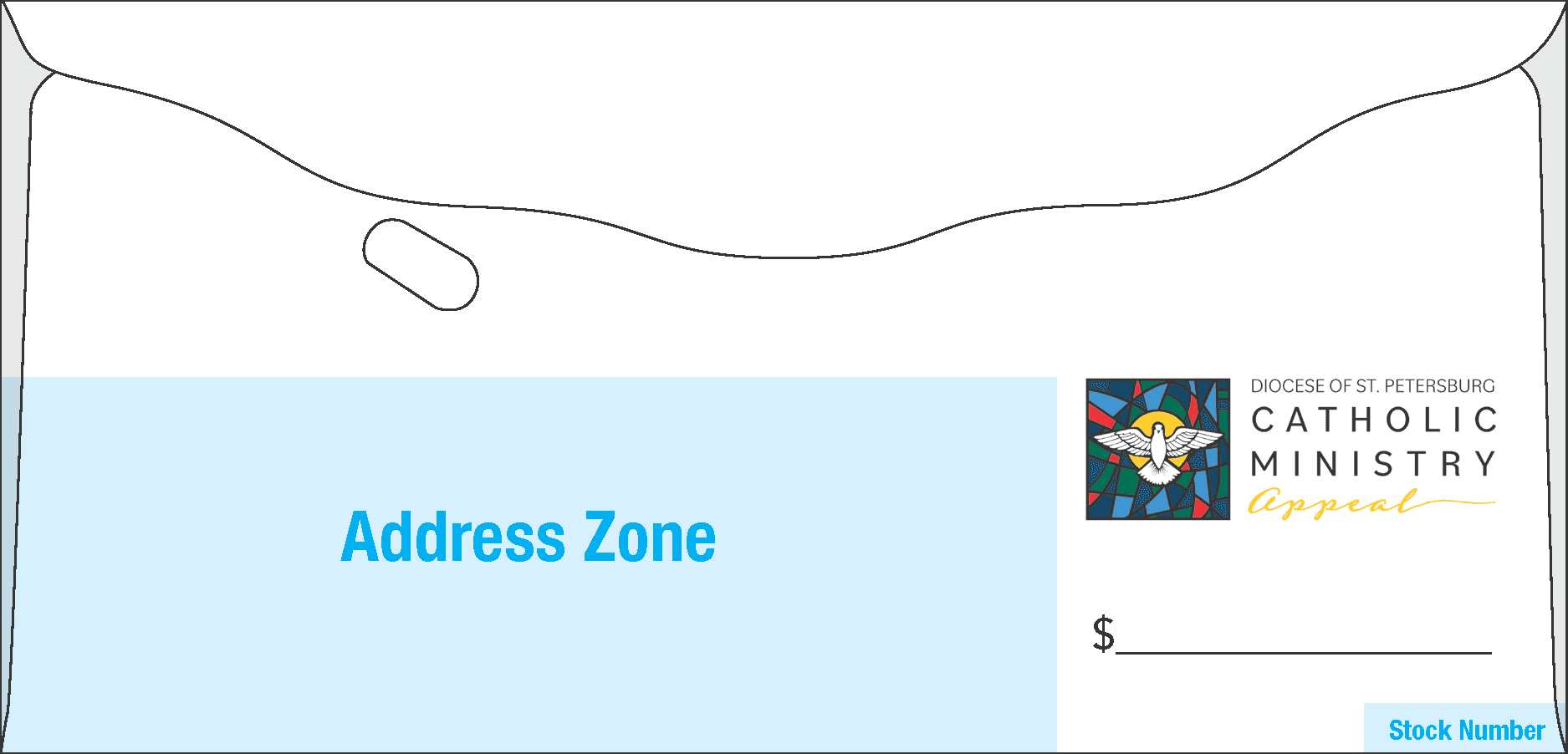 Give Now Graphics – Graphics to redirect to e-giving page. Click the images below to download.
QR Code – Redirects users directly to givetoministry.dosp.org.
Web sliders – downloadable graphics to use on your website.
Social Media Guide – Click here to download the 4-week social media guide with sample graphics, photos and text to download and use or change and customize
Contact Michelle Mesiano at mnm@dosp.org to request materials.
Training Webinar Recordings
Meeting #1 – 2023 Catholic Ministry Appeal Preview Meeting – November 16, 2022
This ministry is supported through gifts to the Catholic Ministry Appeal.