Bishop Gregory Parkes to Ordain Eight Men as Deacons on October 19th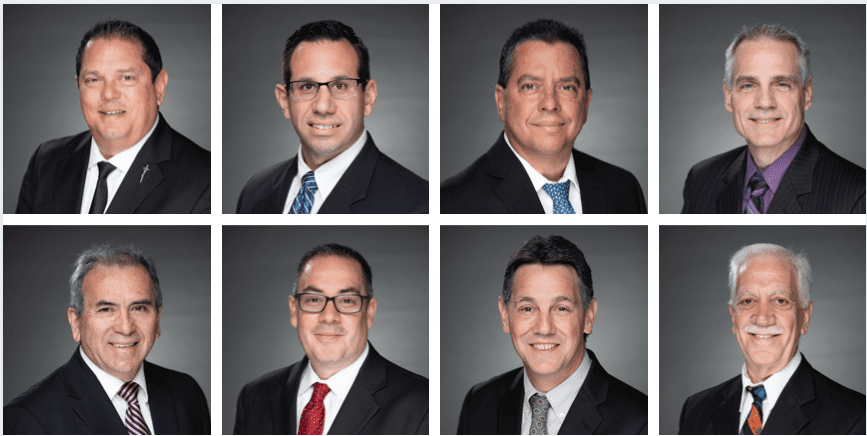 After five years of preparation through prayer, study and discernment, eight local men are ready for ordination as deacons. Bishop Gregory Parkes will ordain Rafael Ferreris, Marc Garofani, Wil Huertas, Mike Miller, Pablo Riano, Hector Rios, Andrew Williams and Carlos Zayas to the permanent diaconate at 11:00 a.m. on Saturday, October 19, 2019 at the Cathedral of St. Jude the Apostle in St. Petersburg. All are invited to attend! Please note that seating is limited. These men are between the ages of 40 and 63. Nearly all have full-time jobs working in fields that range from information technology and finance to engineering and healthcare. One works full time at a Catholic parish. They are all married and combined they have 24 children. The Ordination Mass will be live video streamed at www.dosp.org. We have photos and the parish affiliation of our soon-to-be deacons here. Also, listen to a recorded interview with candidate Wil Huertas and his wife, Sue at this link.
About the Diaconate:
In the Catholic Church, the diaconate is the first of three ranks in ordained ministry. Those not planning to be ordained priests are commonly referred to as "permanent deacons." Married men may be ordained as permanent deacons, and single men may be ordained with a commitment to celibacy. The diaconate has a long history in the Catholic Church. However, the permanent diaconate was discontinued in the Church for about 1500 years. In 1967, Pope Paul VI restored the practice of ordaining to the diaconate men who were not candidates for priestly ordination. Deacons are ordained to serve as Jesus served. Many assist during Mass, preach the homily, preside at baptisms, weddings and funerals and serve in charitable outreach to the poor, disadvantaged and suffering.
About the Diocese of St. Petersburg
There are 110 deacons serving in ministry in the Diocese of St. Petersburg. The Diocese is comprised of over 479,000 Catholics within the five counties of Hillsborough, Pinellas, Pasco, Hernando and Citrus. It includes 74 parishes, 6 missions, 48 schools and early childhood centers and a variety of social service, health care, housing and pastoral ministries. Mass is celebrated regularly in 11 languages and we are led by Most Reverend Gregory Parkes, who was installed as the fifth bishop of our Diocese on January 4, 2017.