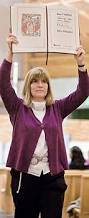 "The second step in Christian initiation is the liturgical rite called both election and the enrollment of names" (Rite of Christian Initiation of Adults no. 118).
The Rite of Election:
Ritualizes the Church's acceptance of the catechumens (i.e., the unbaptized) as being ready to receive the sacraments of initiation (Baptism, Confirmation & Eucharist) at the 2021 Easter Vigil.
Celebrates God's "election" or choice of the catechumens.
Marks the beginning of their final period of more intense, spiritual preparation known as Purification & Enlightenment.
Due to the ongoing public health emergency, the Rite of Election will take place in parishes on the First Sunday of Lent, February 21, 2021, and NOT in a large diocesan celebration.
In a December 2020 letter, Bishop Gregory Parkes granted permission to pastors and parochial administrators to celebrate in his place a Rite of Election in their individual parish or mission (RCIA nos. 12, 34, 121).
Specific Ritual Notes and Guidance for Parishes:
Since the Rite of Election replaces it, the [optional] Sending of Catechumens for Election (RCIA nos. 106-117) is not celebrated this year.
The Office of Worship provided the following resource to pastors and RCIA coordinators regarding this year's Rite of Election.
Only the names of the catechumens (who will become the "elect") are entered into the Book of the Elect.
Special Note due to COVID-19: For the ritual signing of the Book of the Elect (RCIA no. 132), either the elect may sign their name into the book OR the RCIA coordinator may inscribe it for them as the elect announces their name to the assembly.