Solemnity of the Body & Blood of Christ June 5-6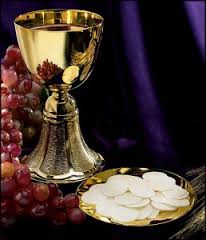 The Solemnity of the Most Holy Body & Blood of Christ (AKA "Corpus Christi") will be celebrated on the weekend of June 5-6, 2021.
Established in the 13th century, this feast celebrates the great mystery of the Eucharist, the source of our Christian lives. In the Eucharist, God feeds us with bread and wine, which are the Body and Blood of our Lord Jesus Christ. By our faithful reception of the Eucharist, God incorporates us fully into the Church, which is the Body of Christ, and as a part of the Body of Christ, we become a part of the very life of God himself. The placement of this solemnity of the Lord after the Easter season allows the Church to focus on this sacrament of unity and selfless offering through faithful devotion, reverence and service to one another.
Below are links to resources available to parishes for celebrating this solemnity fully:
Corpus Christi Resource Book – 2021 (Year B) – Bilingual English & Spanish (pdf)
Reception of Communion – English
Recepción de la Sagrada Comunión