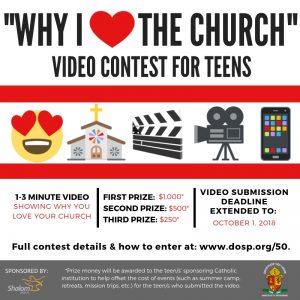 The Diocese of St. Petersburg celebrates its 50th anniversary during 2018 and we want the teens of our community to have an opportunity to learn about the history of their local Church through a video contest that answers the question: "Why I love the Church" The best videos will be featured on our website and played at the Family Faith Fest on October 27, 2018. Shalom World Television Channel, the commercial free, high definition, Catholic family TV channel, is the official sponsor of the video contest. Their website for programs is www.Shalomworld.org.
Suggestions for elements that could be part of your video include:
Interviews with long time parishioners
Ways in which the Church has had an impact on the local community
Relationship of the sponsoring institution with the Diocese
Anything that shares the history of the local Church in a creative way
Please carefully read ALL of the contest information below for the details of the contest and how to submit your entry.
VIDEO SUBMISSION DEADLINE: August 31, 2018 Extended to OCTOBER 1, 2018.
QUESTIONS?
Contact the Office of Communications at 727-344-1611 ext. 5307 or via email at communicate@dosp.org.