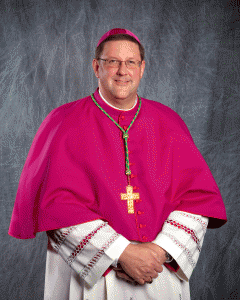 Most Reverend Gregory L. Parkes serves as fifth bishop of the Diocese of St. Petersburg.
Pope Francis appointed Bishop Parkes to be shepherd of the Diocese of St. Petersburg on November 28, 2016, and his Installation Mass was celebrated on January 4, 2017 at St. Jude the Apostle Cathedral in St. Petersburg.  He succeeded Bishop Robert Lynch who retired at the age of 75 and is serving as Bishop Emeritus of the Diocese of St. Petersburg.
Bishop Parkes believes that serving for God's glory is the guiding principle of his ministry, which is why he chose, "To your name give the glory" from Psalm 115, Verse 1 as his pastoral motto.
Bishop Parkes was ordained to the episcopacy and installed as the fifth bishop of the Diocese of Pensacola-Tallahassee on Tuesday, June 5, 2012, at St. Paul Catholic Church in Pensacola. Archbishop Thomas Wenski was principal consecrator at the Ordination Mass.
Before answering the call to the priesthood, Bishop Parkes worked for several years in Tampa's banking industry. During that time, he attended Christ the King Catholic Church in South Tampa.
He earned a bachelor's degree in finance from Florida State University. After much prayer before the Blessed Sacrament, he realized that God had other plans for his life and he began the path to priesthood. He entered the St. Vincent de Paul Regional Seminary in Boynton Beach in 1993 and continued his studies at the Pontifical Gregorian University in Rome where he graduated with a Sacred Bachelor of Theology (S.T.B.) and a Licentiate in Canon Law (J.C.L.).
He was ordained a priest of the Diocese of Orlando by Bishop Norbert Dorsey on June 26, 1999.
His assignments after ordination included parochial vicar at Holy Family Catholic Church in Orlando and pastor of Corpus Christi Catholic Church in Celebration. Bishop Parkes served the Diocese of Orlando as Vicar General and Chancellor for Canonical Affairs while also serving as pastor of Corpus Christi Parish.
Educational Background:
B.S. Finance, Florida State University, 1986
S.T.B., Pontifical Gregorian University, 1998
J.C.L., Pontifical Gregorian University, 2000
USCCB Offices Held:
Treasurer, United States Conference of Catholic Bishops, elected November 14, 2018 and served through November, 2022.
USCCB Committee Memberships:
USCCB Committee on Communications, Committee Member, appointed November 16, 2018
USCCB Committee on Canonical Affairs and Church Governance, Committee Member, appointed January 2, 2018
USCCB Subcommittee on Native American Affairs, Committee Member, appointed 2015
USCCB Committee on Budget and Finance, Committee Member
Other National/Curial Responsibilities:
Member of the Board of Directors of Catholic Relief Services, 2017 to present
Episcopal Liaison to National Council of Catholic Women (NCCW), 2016 to present
Bishop Parkes was born on April 2, 1964, in Mineola, NY to Ronald and Joan Parkes.  His younger brother Stephen, also a priest, was appointed Bishop of the Diocese of Savanah on July 8, 2020.  Bishop Parkes' parents and his older brother Christopher are deceased.