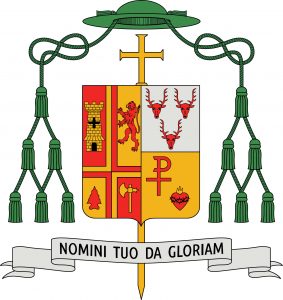 A Bishop's coat of arms is distinguished by a sign of his rank.  That sign, placed over the shield, is a particular version of an ecclesiastical hat that was worn in processions as late as 1870.  The hat is low-crowned, flat and wide-brimmed.  On a bishop's coat of arms, the hat is green and hanging from it are 12 green tassels, six on each side.  There is also a processional cross above the shield.  The cross on a bishop's coat of arms has one bar, while an archbishop's cross has two.
Bishop Parkes' coat of arms, by heraldic tradition, includes his personal coat of arms joined to that of his jurisdiction, in this case the Diocese of Saint Petersburg, which is represented on the two quadrants on the left-hand side.  The inverted Latin cross within these two quadrants is used to honor St. Peter, who was nailed to a cross, head downwards, because he deemed himself unworthy to be crucified in the same manner as Jesus Christ.  The Spanish explorers and early missionaries who first brought the Gospel to Florida over five hundred years ago are acknowledged by the predominate colors of red and gold, and by the castle tower and lion, which were part of the coat of arms of the King of Spain.  The arrowhead in the base of the shield is recognition of the indigenous people of Florida.   Memorializing St. Jude the Apostle, the patron saint of the Diocese of St. Petersburg, is the halberd, or battleax, by which it is said he was martyred in Persia for preaching the Gospel.
Regarding the right-side (or personal-side) of the coat of arms, Bishop Parkes has chosen to represent his family heritage and the dioceses in which he was ordained as a Priest and as a Bishop.  In the top right quadrant, the three stag heads are drawn directly from the Parkes family crest, and signify peace, purity and strength.  The stag heads are red to symbolize strength, nobility and fairness.
The bottom quadrant includes elements found on the shields of the Diocese of Orlando and the Diocese of Pensacola-Tallahassee.  The red Chi-Rho (overlapping ? – ?) is taken from the two first letters of the Greek word for Christ, the Son of God and the center of all Christian faith.  It honors the Diocese of Orlando.  The Sacred Heart honors the Diocese of Pensacola-Tallahassee; it represents the titular Cathedral of the Diocese located in Pensacola.
At the bottom of the coat of arms is a scroll inscribed with Bishop Parkes' motto: "Nomini Tuo Da Gloriam" ("To Your Name, Give Glory") taken from Psalm 115.