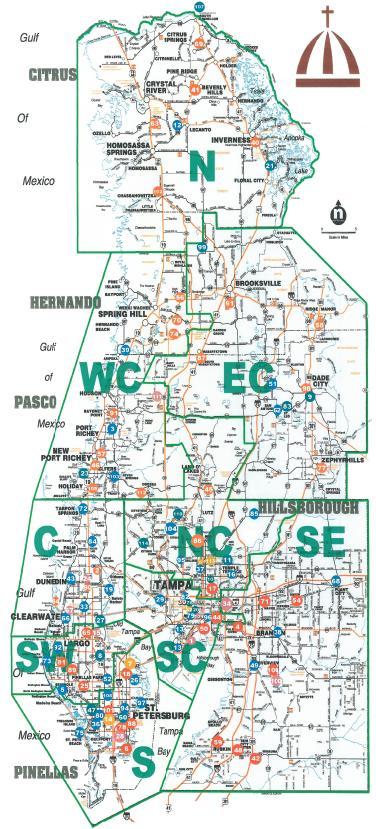 A subdivision of a diocese, consisting of a number of parishes, over which presides a dean appointed by the bishop.
Our Diocese consists of nine deaneries: Northern, West Central, East Central, North Central, Central, South Central, Southeast, Southwest, and Southern.

VICARS FORANE (Deans)
Represent the bishop in each deanery in promoting the spiritual and material welfare of the clergy; promote the proper celebration of the liturgy and the sacraments; promote the temporal welfare of each parish's property; and convene meetings of the local clergy.
List of Deaneries with Parishes (pdf) ~ as of July 2023
Map with list of Parishes (pdf) ~ as of July 2023
Northern Deanery
Very Rev. Sojan Punakkattu, VF
St. Elizabeth Ann Seton Parish, Citrus Springs
Phone:  352-489-4889
Map
West Central Deanery
Very Rev. James Ruhlin, VF
St. Michael the Archangel Parish, Hudson
Phone:  727-868-5276
Map
East Central Deanery
Very Rev. Krzysztof Gazdowicz, VF
Sacred Heart Parish, Dade City
Phone:  352-588-3641
Map
North Central Deanery
Very Rev. Anthony Coppola, VF
Most Holy Redeemer Parish, Tampa
Phone:  813-933-2859
Map
Central Deanery
Very Rev. Leonard Piotrowski, VF
Espiritu Santo Parish, Safety Harbor
Phone:  727-726-8477
Map
South Central Deanery
Very Rev. Leonard Plazewski, VF
Christ the King Parish, Tampa
Phone:  813-876-5841
Map
Southeast Deanery
Very Rev. Dermot Dunne, VF
St. Stephen Parish, Riverview
Phone:  813-689-4900
Map
Southwest Deanery
Very Rev. Emery N. Longanga, PhD,  VF
Holy Cross Parish, St. Petersburg
Phone:  727-546-3315
Map
Southern Deanery
Very Rev. Curtis V. Carro, VF
St. Raphael Parish, St. Petersburg
Phone:  727-821-7989
Map
as of July 2023