10:30 AM Wed 8/30/2023 Update
Tropical Storm Idalia made landfall around 8:00 AM on Wednesday, August 30, 2023, and is leaving a trail of devastation in its wake, causing widespread flooding, displacing families from their homes, and disrupting critical infrastructure and ministry. We thank God for His continued protection during the storm and the aftermath.
All five counties in the Diocese of St. Petersburg, and our neighboring counties received Idalia's direct impact. The storm's full impact has not reached its end yet and the effects from high tide and storm surge are still anticipated and ongoing. The intensity and paths of storms can often shift quickly, severely limiting an individual or family's ability to evacuate. In addition, there is always a potential for flying debris, downed power lines, and localized flooding.
We are already receiving inquiries from those wishing to assist impacted areas in the wake of natural disasters. For those seeking to offer aid, we appreciate your generosity and have updated the diocesan Disaster Relief Fund. After the storm passes, we will assess the damage and utilize these resources.
Mon 8/28/2023 Update
Closures
Due to the impending threat of Tropical Storm Idalia, Bishop Gregory Parkes has decided that Catholic School buildings in the Diocese of St. Petersburg will be closed on Tuesday, August 29 and Wednesday, August 30. This includes Catholic schools and Early Childhood Centers in Hillsborough, Pinellas, Pasco, Hernando, and Citrus Counties.
The Pastoral Center in St. Petersburg will be closed on Tuesday, August 29th and Wednesday, August 30th. We anticipate re-opening on Thursday, August 31st.
Saint Leo University has cancelled classes Tuesday, August 29, and Wednesday, August 30.
Please check with your parish about event and Mass cancellations.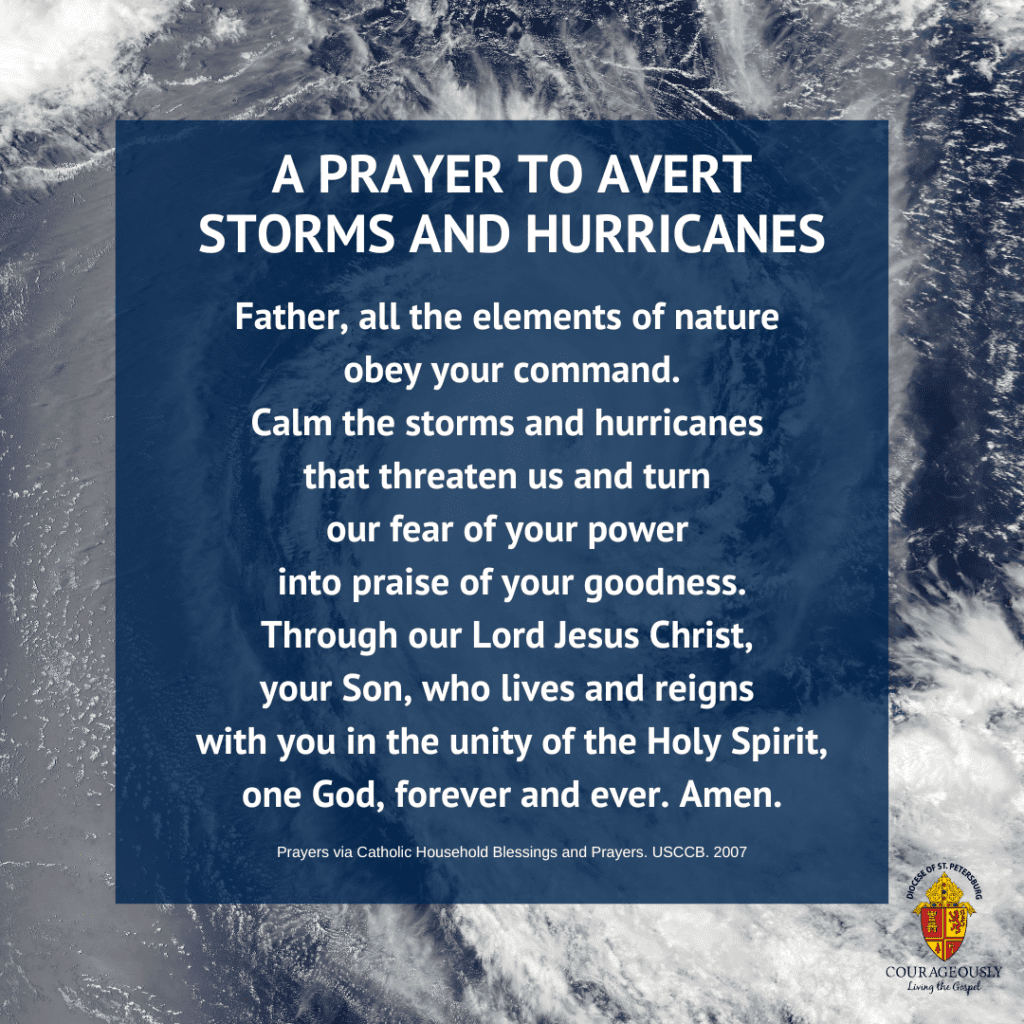 Father, all the elements of nature obey your command.
Calm the storms and hurricanes that threaten us
and turn our fear of your power into praise of your goodness.
Through our Lord Jesus Christ, your Son,
who lives and reigns with you in the unity of the Holy Spirit,
one God, forever and ever. Amen.
(Prayer from Catholic Household Blessings and Prayers. USCCB. 2007)