In order to strengthen the pastoral care of African Catholic communities in the United States, the Secretariat of Cultural Diversity in the Church/Subcommittee on Pastoral Care of Migrants, Refugees and Travelers (PCMRT) from the USCCB assisted the National Association of African Catholics in the United States (NAACUS) in the restructuring of their organization. As a result, NAACUS appointed a President and 7 Regional Coordinators for Ecclesiastical Region XIV. Mrs. Celina Okpaleke was appointed Region Coordinator for the state of Florida and in her primary role, she will further the mission of NAACUS. —March 8, 2018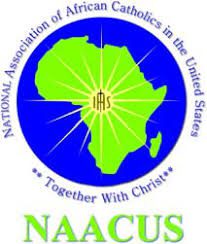 The mission of the NAACUS is to bring together all African Catholics communities in the United States while promoting their faith, and ensuring active and full participation in support of the Church in the in the United States and Africa.
The vision of NAACUS is to promote a vibrant and visible African Catholic community in the Church in the United States.
The objectives of NAACUS are:
To be a voice of African Catholics residing in the United States.
To promote awareness of the presence of African Catholics and their respective heritage and cultures in the United States and their contributions to the universal Church.
To encourage the celebration of the Catholic liturgy in the ethnic languages and cultures.
To dialogue and advocate for and strengthen the African Catholics' connection to the local diocese, with the USCCB, other national Catholic organizations, and African associations in the United States.
To raise awareness of pastoral needs of African families, youth, and young adults.
To support the strengthening of African marriages and family life, and nurture vocations to the priesthood, religious life, and lay ministry.
To develop and pull African resources, sharing religious experiences to improve and strengthen our lives as African Catholics.
To foster dialogue and collaborate with other ecclesial communities.
To encourage inter-religious dialogue in and among African communities.
To advocate for social justice within African communities and the U.S. society.
To empower and enable Catholics of African origin residing in the United States to help evangelize themselves and their local parishes.
Learn more about the National Association of African Catholics in the United States at their website.
This ministry is supported through gifts to the Catholic Ministry Appeal.