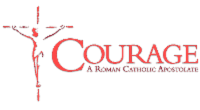 "Courage and Encourage are ministries which provide hope and support to all who are seeking to live a holy and virtuous life in union with the Church and in accord with God's plan. Both of these ministries have been a blessing in the Diocese of St. Petersburg." Gregory L. Parkes, Bishop of St. Petersburg
Chastity and Same-Sex Attraction equals
Courage International www.couragerc.org
Did you know that our Catholic Church has a ministry specifically for men and women experiencing same-sex attraction who desire support in living a chaste life? Did you know that this ministry began in 1980 in NYC? Did you know that a second ministry for family members was begun by a mom and dad who's son identified as a gay man and they did not know how to walk this experience with him. Did you know that this support is available in our own diocese? Bishop Parkes has fully endorsed this ministry that offers Truth and Love.
Do you want to know more? www.couragerc.org will give you the information you need to be brave in your faith and in living God's plan for sexuality. At couragerc.org and on formed.org you can view the 1 hour documentary "The Desires of the Everlasting Hills". This short video offers a view into the world of divine peace given to three adults who experience same-sex attraction and live fully in their Catholic faith. May God bless you and give you the strength to be brave and live joyfully.
For more information about local Courage and Encourage meetings contact courage.tampabay@gmail.com , encourage.tampabay@gmail.com or at 813-570-1163.
This ministry is supported through gifts to the Catholic Ministry Appeal.