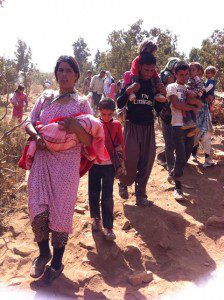 About the Justice for Immigrants Campaign
The primary objectives of the JFI campaign are:
• To educate the public, especially the Catholic community, including Catholic public
officials, about Church teaching on migration and immigrants;
• To create political will for positive immigration reform;
• To enact legislative and administrative reforms based on the principles articulated by  the bishops; and
• To organize Catholic networks to assist qualified immigrants obtain the benefits of the reforms.
Learn more about the JFI campaign.
July 2020 DACA Memo: What You Need to Know in English
July 2020 DACA Memo: What You Need to Know in Spanish
OTHER RESOURCES
• Excerpts from Strangers No Longer: Together on a Journey of Hope, a joint statement from the Catholic Bishops of Mexico and the United States, and the inspiration for the Justice for Immigrants campaign.
• Catholic Social Teaching regarding migration.
See more at: http://justiceforimmigrants.org/about-us.shtml#sthash.64BeX1s2.dpuf
This ministry is supported through gifts to the Catholic Ministry Appeal.