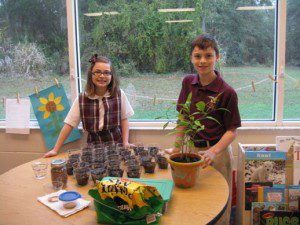 ---
It isn't enough to just read Pope Francis' encyclical Laudato Si'. Once we are made aware of our own responsibility to the environment, it becomes our moral responsibility to act upon it. And that is part of our call to stewardship of the environment.
So how do we take the abstract and turn it into concrete action?
Literally take action! From promoting green construction with energy efficient homes and buildings (26, 180) to recommitting to Reduce-Reuse-Recycle (22, 192), Pope Francis' encyclical Laudato Si' not only addresses the larger issues of environmental stewardship and global responsibility, it gives us concrete ways we can make a difference in our homes, parishes and larger communities. Every one of us can make a difference!   Visit the Catholic News Service by clicking here to read more suggestions from Pope Francis.
We can also add prayer for the environment to our list. Where do you turn when you need a prayer for the earth? You can download one of the two prayers from Laudato Si' by clicking the links below, or visit NCR online to download today.
In addition, we can commit to Pope Francis' challenge to care for creation by visiting the Catholic Climate Covenant. This group is the Catholic Church's voice on climate change, and they do some incredible work! Visit the Catholic Climate Covent by clicking here, and pledge to pray, act and advocate to solve climate change!