LPMI Year of Discernment 2021-2022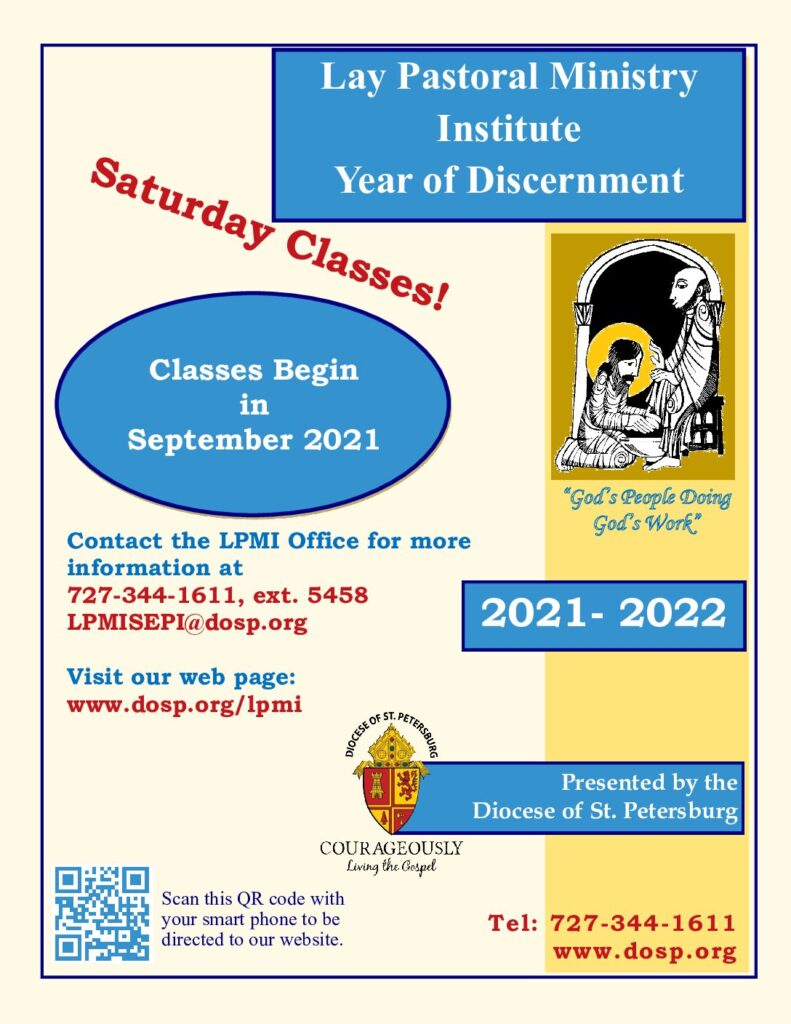 So often people ask how they can grow in their faith. In response to this, the Diocese of St. Petersburg offers a unique learning opportunity through the Lay Pastoral Ministry Institute.
LPMI is a four-year program: an informal year of discernment and three years of formal academic training and spiritual growth. The initial segment of the program, the Year of Discernment, consists of eight Saturday sessions from 9:30 am to 3:00 pm. The classes meet at Christ the King Parish, located at 821 S. Dale Mabry Hwy., Tampa.
Classes begin on September 11, 2021 and continue through April 2022.
For 20 years, LPMI has provided education and formation for laity in four areas of formation—human, spiritual, intellectual, and pastoral. The program is designed to enhance personal faith and develop intellectual aptitude to enrich ministry efforts. Our skilled instructors include a variety of priests, deacons and laity who are active in ministerial roles in our diocese. For anyone interested in attending the LPMI Year of Discernment, the registration form and program information can be found under the LPMI Program tab above. You are also welcome to call the LPMI office at (727) 344-1611, ext. 5458; or email LPMISEPI@dosp.org.
Registrations are due in the LPMI office no later than September 9, 2021.