H.O.P.E. Campaign
Bishop Gregory Parkes had surgery to amputate his right foot on June 9, 2022, and he is grateful for your prayers, support, and patience during this time. (Click here to read the bishop's letter about the surgery.) (Bishop Parkes posted on June 10th that the surgery went well. See his post below.)
This major surgery will involve a long healing and recovery process and he needs our prayers. Prayers truly make a difference! That's why you are needed to spread H.O.P.E.
H.O.P.E. stands for Hundreds Of Prayers Everyone. We are asking everyone to offer a prayer for Bishop Parkes and to show support for him in a variety of ways. Here are some suggestions:
Prayer Chain
1. Create a link for our H.O.P.E. Prayer Chain. On a 2" x 11" piece of construction paper, write a prayer for our bishop and send it to his office:
H.O.P.E. for Bishop Gregory Parkes
Pastoral Center
6363 9th Avenue North
St. Petersburg, FL 33710
We will link all the prayers together and display them to symbolically represent Hundreds Of Prayers Everyone.
Prayer Wall
2. Create a prayer wall at your parish or school where people can write a prayer for Bishop Parkes and then photograph the prayer wall and send it to socialmedia@dosp.org and post it to your social media with the hashtag #PrayforBishop
24 Hours of Prayer
3. Sign up for 24 Hours of Prayer for Bishop Parkes. Each person is asked to pray for 15 minutes on June 9th, the day of his surgery. Click here to sign up for a prayer time on June 9th.. (Thank you so much to everyone who signed up! We had each time slot filled which means people praying for the bishop around the clock on June 9th!)
Prayer Intentions
4. Offer prayer intentions for Bishop Parkes during individual prayer, family prayer, small groups, Mass, Vacation Bible School, and any other opportunity you have to lift up our bishop in prayer.
Social Media
5. Show your support for Bishop Parkes by following him on social media (official accounts are listed below) and commenting with a prayer or positive message. Also, if you post a prayer for Bishop Parkes on your social media, use the hashtag, #PrayForBishop.
@BishopParkes on Facebook, Twitter, Instagram
FACEBOOK: https://www.facebook.com/bishopparkes
TWITTER: https://twitter.com/BishopParkes
INSTAGRAM: https://www.instagram.com/bishopparkes
Record an Audio Message
6. Take part in an audio get well card that is being created by Spirit FM 905. Click here to learn more.
Social Media Post by Bishop Parkes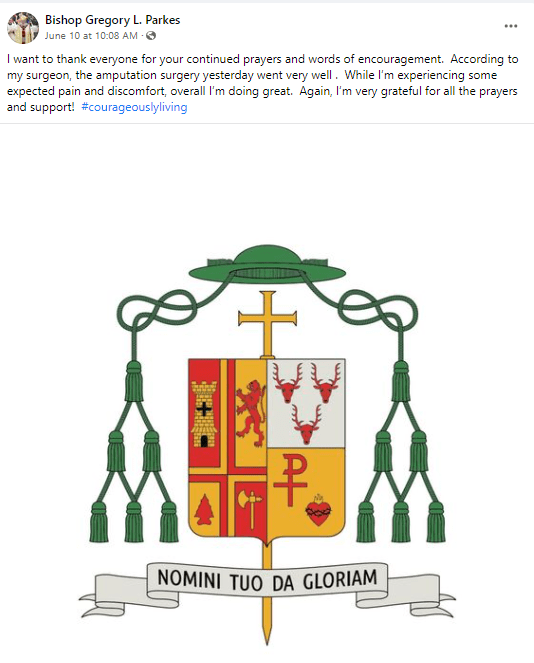 Letter Announcing the Bishop's Surgery