10,000 Meals Packaged for Burkina Faso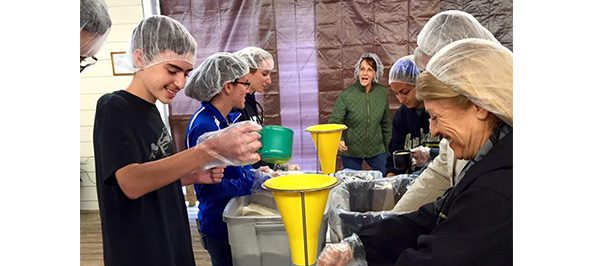 February 6, 2016 – More than 100 representatives from Catholic parishes around the diocese and homeless residents of Pinellas Hope packaged 10,000 meals for our brothers and sisters in Burkina Faso! See photos and a video from the event.
Hosted at Pinellas Hope in Clearwater, the day started with a Ministries of Mercy retreat to reflect on global hunger and the Catholic response. This was followed by a simple lunch that consisted of the meals that would be packaged. This was followed by the food-packing event.
This Catholic Relief Services Helping Hands program sends food and provides long-term solutions to approximately 27 million different institutions and organizations in Burkina Faso, which is one of the poorest countries in the world.
To learn how to hold a CRS Helping Hands food-packing event in your parish, contact Sabrina Burton Shultz with the Office of Life Ministry at sab@dosp.org or at 727-344-1611.