Congratulations to our 2018 St. Jude Medal Award Recipients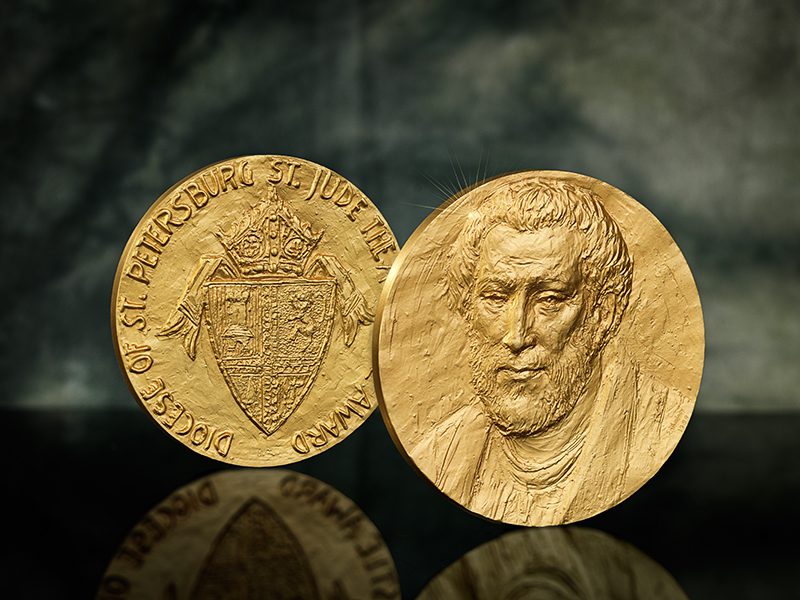 On Sunday, Nov. 18 at 3:00 p.m. at the Cathedral of St. Jude the Apostle, Bishop Parkes will present the St. Jude Medal Award to one lay member from each of our parishes for their distinguished and outstanding service.
Whether it's advocating for the life of the unborn, serving as an usher at Mass, or helping those in need, these men and women share the love of Christ in many visible ways. Some of the honorees lead music, bereavement or nursing ministries and others help couples preparing for marriage. Whatever the humble offerings they provide, they exemplify gratefulness to God's blessings in their service to his people.
To see the list of 2018 recipients, click here.
If you cannot attend this liturgy in person, you can watch the live video stream at this link. You can also listen live on Spirit FM 90.5 (online at http://www.myspiritfm.com/).
The live video stream and broadcast start at 3:00 p.m.
About the St. Jude Medal
The St. Jude the Apostle Medal was commissioned for the Diocese of St. Petersburg in 1999 at the request of Most Reverend Robert N. Lynch, fourth Bishop of St. Petersburg. The famous Enrico Manfrini of Milan, Italy designed the medal and it was cast by the Senesi Foundry of Milan with the Diocesan Coat of Arms and the image of St. Jude the Apostle, Patron of this diocese. The medal is given each year in the Diocese of St. Petersburg as a way to recognize those persons showing distinguished and outstanding service to their parish.
This medal acknowledges the great gift of the Church, its people, exemplified in these individuals who in their generosity and love of their faith have greatly contributed to spreading the Gospel of Jesus Christ in their parish.
About Evening Prayer
Evening Prayer is a part of the Church's Liturgy of the Hours. Christians of the first four centuries would have been as familiar with this liturgical prayer form as they were with Sunday Eucharist because they framed their day with prayer.
The "hinges" of the Liturgy of the Hours are Morning and Evening Prayer. During Morning Prayer, we dedicate the day to the Lord and ask that our work, and the work of the Church, is blessed so that we become leaven for the world. In Evening Prayer, we thank God for the gift of light (i.e., Christ our Light) and we make a petition for divine protection during the night.
With its rich use of the Scriptures (psalms, canticles, and readings), prayers of intercession, symbols and gestures, the Liturgy of the Hours deepens our appreciation for the rich tradition that is our Catholic faith.