Faith Filled Artists to Perform at Unprecedented Free Event:  "Family Faith Fest"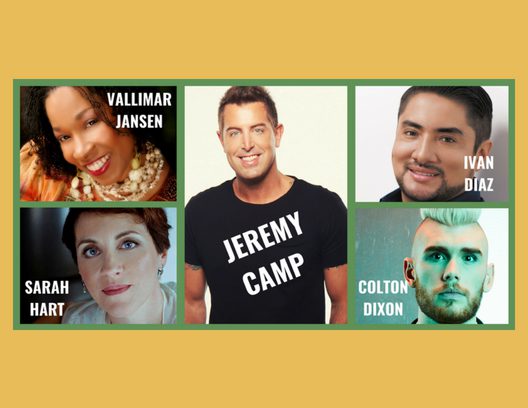 The Diocese of St. Petersburg is hosting an all-star lineup for the Family Faith Fest, a free music and faith festival event on Saturday, October 27, 2018 at Tampa's Al Lopez Park and ALL are invited.  Appearing on stage will be faith-filled musical artists: Jeremy Camp, Colton Dixon, Sarah Hart, Ivan Diaz and ValLimar Jansen.
Jeremy Camp is a GRAMMY®-nominated singer and songwriter who has released 15 albums and has sold more than 4.5 million albums. He has released 41 radio No. 1 hits, including a Gold digital single: "There Will Be A Day."
Colton Dixon is a 24-year old Tennessee native and two-time Dove Award winner. Dixon won the heart of America while becoming a top ten finalist on the 11th season of American Idol. He has released four radio No. 1 hits and his new album focuses on our identity as children of God.
Sarah Hart's songs of faith have touched the lives of thousands. In October of 2013, she was invited to perform for Pope Francis and a crowd of 150,000 in St. Peter's Square.  Now based in Nashville, she's on the road a good part of the year, juggling a busy songwriting, recording, concert, and event schedule
Iván Díaz is a native of Colombia who has been composing music since he was just 17.  His latest release with Oregon Catholic Press, Nuestra Alegria / Our Joy, was chosen as the official youth and young adult song for the Fifth Encuentro. He has appeared on EWTN and the Jesus Christ Network.
ValLimar Jansen is a beloved inspirational singer, storyteller, composer and recording artist. ValLimar sings a broad range of styles from traditional to contemporary. In 2005, she released her first solo collection, You Gotta Move. She shares the Gospel through music and drama in a mesmerizing way!
ABOUT FAMILY FAITH FEST:  The Catholic Diocese of St. Petersburg celebrates 50 years of ministry in 2018.  The diocese covers five counties: Pinellas, Hillsborough, Pasco, Hernando, and Citrus.  As part of the 50th-anniversary celebration, Bishop Gregory Parkes, Bishop of St. Petersburg, created a music and ministry festival showcasing the various ministries, churches, schools, and outreaches of the diocese.  It is called Family Faith Fest.  People of all ages will also enjoy the street performers, face painters, carnival games, DJ, gift & food vendors, BayCare Health Village and Faith Village. Family Faith Fest is presented by BayCare Health System.
TICKET INFORMATION:   The event is free, but registration is recommended to accommodate for parking and other amenities.  Tickets and information can be found at www.familyfaithfest.org
OUTREACH: Fest-goers are asked to bring a non-perishable food item for the hungry and homeless of our community.
For more information, visit www.FamilyFaithFest.org.