5,000 People and Counting…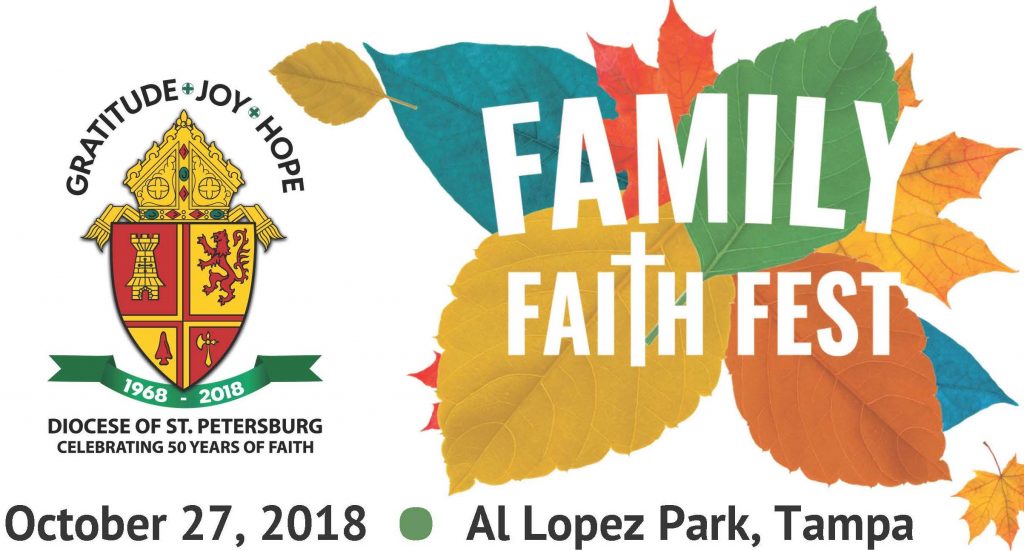 More than 5,000 people have registered to attend the Diocese of St. Petersburg's Family Faith Fest on Saturday, Oct. 27! Have you? (Click here to register.)
In about one month the Family Faith Fest will be here! It's expected to be the biggest event in our diocesan history and we are hoping for a huge outpouring of grace and prayers as we unite as ONE family of God.
These videos (titles are linked below) provide a great overview of what will be happening at the Family Faith Fest. Also, visit this website that is updated weekly as new activities are added and schedules are finalized.
Bishop Parkes Invitation Video –  English  /  English with Spanish Subtitles
One Family in Christ
All Star Lineup
Top Ten Reasons to Attend
All Invited
Todos Invitado
Top Teen Activities
Top Children's Activities
What to Bring
ABOUT FAMILY FAITH FEST : The Family Faith Fest will be held on Saturday, October 27th from 10 AM to 6 PM at Al Lopez Park in Tampa. The event is organized by the Catholic Diocese of St. Petersburg in recognition of their 50th anniversary. All are welcome to celebrate with us the tremendous blessings that God has brought into our lives. Join us as we remember the past with gratitude, celebrate the present with joy and look to the future with hope.
The Diocese of St. Petersburg is comprised of over 470,000 Catholics and includes 74 parishes, 6 missions, 48 schools and early childhood centers, a university, and a variety of social service, health care, housing and pastoral ministries located within the five counties of Hillsborough, Pinellas, Pasco, Hernando and Citrus. Mass is celebrated in 11 languages and we are led by our fifth bishop, Most Reverend Gregory Parkes who was installed on January 4, 2017.
TICKET INFORMATION :  The event is free, but registration is recommended to accommodate for parking and other amenities. Register for your tickets here .
OUTREACH : Fest-goers are asked to bring a non-perishable food item for the hungry and homeless of our community.
For more information, visit  www.FamilyFaithFest.org