900 Students Learn About Vocations at Fun, Focus 11 Event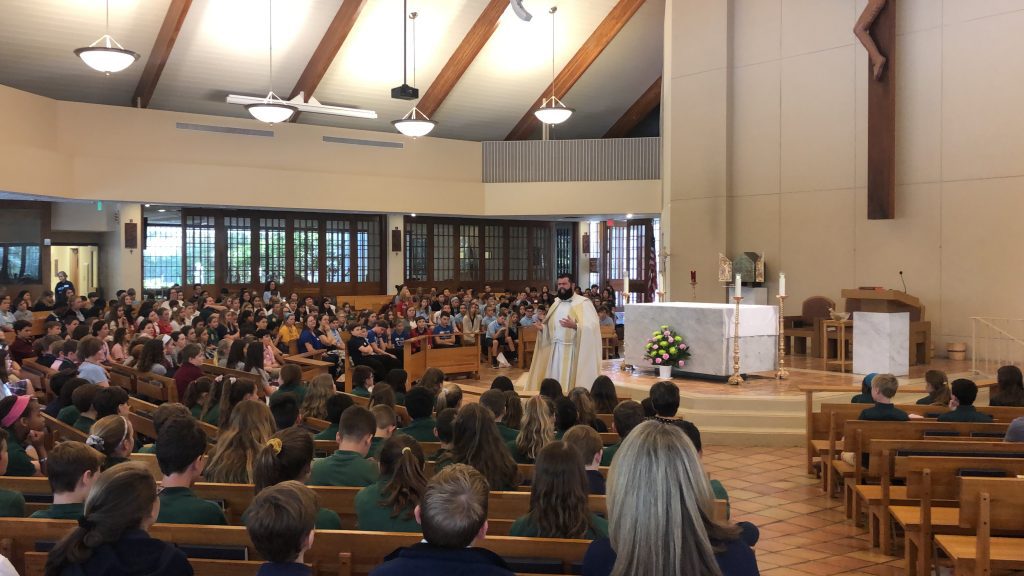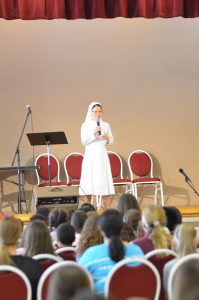 Over 900 sixth graders from Catholic schools across the five counties of the Diocese of St. Petersburg participated in the annual Focus 11 program February 12 -13 at St. Lawrence Parish in Tampa.
A major part of this vocations awareness retreat is hearing from men and women who have said yes to God's call to a priestly or religious vocation. This year's keynote speaker was Sister Joo Yun Park, a Daughter of Mary Help of Christians (also known as the Salesian Sisters of St. John Bosco).
She shared her vocation story and reminded students of the importance of prayer when discerning one's vocation. "Every day, everyone should pray one Glory Be, one Hail Mary, and one Our Father, asking God for direction in what they should be doing in their life," shared Sister Joo.
The children were delighted to have Bishop Parkes attend for a short time to speak about his vocations journey on the first day.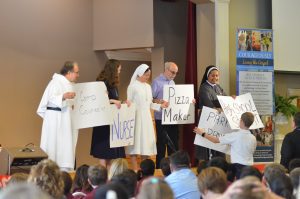 Students also played the "Guess My Past Career" game, where they learned about the various career paths that have preceded a priestly or religious vocation. For example, Father Lou Turcotte worked in marketing before he entered the seminary.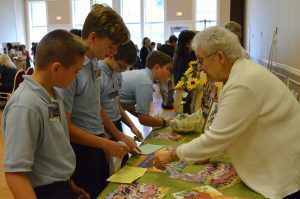 Focus 11 also encourages students to ask questions and interact with religious brothers and sisters, seminarians, and diocesan priests. They participated in panel discussions in small group sessions and explored the Exhibits Hall, where religious orders set up booths with displays and giveaways. Students took part in a scavenger hunt, which encouraged them to visit each booth to seek answers from the religious in attendance.
As students learned about the importance of prayer in discerning a vocation, they also participated in a closing prayer service.
"For many of these students, it is their first chance to encounter vocations to the priesthood and religious life," said Father Carl Melchior, Director of the Office of Vocations for the Diocese of St. Petersburg. "The kids see that priests and religious sisters and brothers are people, many of whom had careers before they chose their religious vocation – a fact which always surprises the kids. They all also really enjoy the scavenger hunt!"
On Day One of Focus 11, students from Pinellas County Catholic schools, St. Lawrence Catholic School, and students from home school groups across the Diocese participated. On Day Two, students from Hillsborough, Pasco, Hernando and Citrus counties participated.
Side Note:
The Serra Club sponsors a Vocations Poster Contest each year and the winners are announced at Focus 11.
The winners on Day One were:
1st: Carlos Lugo, Holy Family Catholic School.
2nd: Ronin Fernandez, St. Cecelia Interparochial Catholic School.
3rd: Aiden Heelan, St. Raphael Catholic School
Honorable Mention: Cole Beaulieu, St. Raphael Catholic School
The winners on Day Two were:
1st: Maia McCullough, Academy of the Holy Names
2nd: Meg Connor, St. Anthony Catholic School
3rd: Elle Melchior, Christ the King Catholic School