A Unique Approach Encourages Missionary Disciples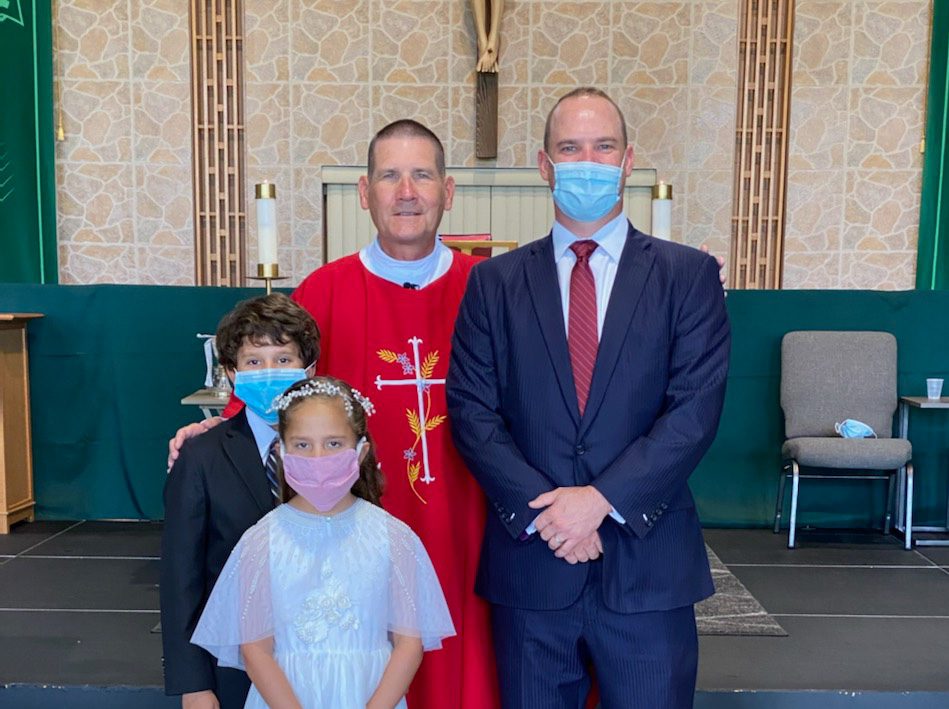 On July 9, after attending Mass faithfully for the past twenty years, Dustin Johnson was received into Full Communion with the Catholic Church at St. Peter the Apostle Parish in Trinity. During this celebration, he gave a profession of faith, received the Sacrament of Confirmation, and then received Holy Communion for the first time. His two eldest children received their first Holy Communion at the same time, which was especially meaningful as they were partly responsible for their father entering the Church.
"We had been attending St. Peter's for two-and-a-half years," remembered Dustin. "I found a community there, and our children were getting older and starting to attend catechism classes. I told my wife I wanted to look into conversion again."
Dustin attended a Baptist church off and on while growing up but started going to Mass at the age of 18 when he started dating his now-wife, a cradle Catholic. He had entered the Rite of Christian Initiation of Adults (RCIA) process several years ago, before moving to the Diocese of St. Petersburg, but something didn't feel right and he found himself making excuses not to attend the sessions. Years later, the pieces began to fall into place, the final one being the parish's capital campaign. Recognizing the blessing that the parish had been to their family, Dustin and his wife made a generous contribution.
"I'm a financial advisor so maybe things take on more importance when there is money involved," said Dustin, half-jokingly.
After making a monetary investment to the Church, he knew he wanted to invest his life as well. He began attending RCIA sessions, which like everything else, moved online in March with the quarantine. At St. Peter's, the RCIA process is unique in that it recognizes that not every conversion is the same, so not every RCIA process needs to be the same. It was soon apparent to the coordinators, that with so many years attending Mass with his family, Dustin already knew more about the Church than the average person seeking to become Catholic. They decided to work with work him individually through weekly Zoom calls for an abbreviated process that would have allowed him to enter the Church at Easter, had COVID-19 not delayed the Sacraments.
"We've made some substantial changes to the program in the last year and it seems to be working out," said Father Michael Suszynski, pastor. "We look at what everyone needs and form small groups based on that. For instance, right now we have a young adult group because their experiences and what they can relate to will be very different from someone who is older. I don't want people to just jump through the hoops, I want them to really get the most out of their time."
With the goal of forming parishioners as missionary disciples, Father Michael envisions creating more tailored ministries in the parish once COVID-19 restrictions are relaxed. A men's ministry was just getting off the ground when the quarantine occurred and he can see the need for a mom's ministry for mothers of teenagers. Within these small groups, the members will share camaraderie and prayerful support as they minister to one another. The parish is in the process of installing an industrial kitchen, which will eventually be a place for ministries to gather, and more importantly, to invite.
"A kitchen is important in a parish, just like it is in a house. That's how you get your family together, around food," explained Father Michael. "It can really build community and encourages people to invite others in. We have a vibrant parish and that interest spills over to others. People see it and want to know about it. As Christians our vocation is missionary."
Father Michael encourages everyone, and especially those who have recently entered the Church, to grow as missionary disciples and enrich their faith by joining a ministry or taking on a responsibility in the parish. Dustin recently agreed to serve as a reader at Mass and will begin at the end of September, giving him an opportunity to study, reflect, and proclaim the Word of God.
"I used to go to Mass just to appease my family. Now I go for me and I listen, I think about the readings, I sit and pray after Communion. That has never happened before!" said Dustin. "Everything is more meaningful since my First Communion. Even with COVID, everything fell into line; the right approach, the right people, the fact that they did tailor it to me inspired me to keep going. I'm glad I did it. I never thought I would be as glad as I am."