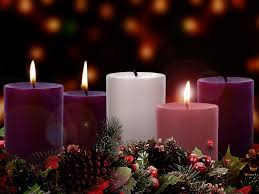 "Advent has a two-fold character, for it is a time of preparation for the Solemnities of Christmas, in which the First Coming of the Son of God to humanity is remembered, and likewise a time when, by remembrance of this, minds and hearts are led to look forward to Christ's Second Coming at the end of time. For these two reasons, Advent is a period of devout and expectant delight" (Universal Norms for the Liturgical Year and the Calendar, no. 39).
The First Sunday of Advent is November 27, 2022. On this Sunday, the Church begins a new liturgical year. The Lectionary cycles are as follows: Year A for the Sunday cycle with the gospels based on the Gospel of St. Matthew, and Cycle I for the weekday cycle of readings. The liturgical color for the season of Advent is violet. The liturgical color for the season of Christmas is white.
The Advent and Christmas seasons ends with the Feast of the Baptism of the Lord on Monday, January 9, 2023.
To assist parishes with their preparations for the seasons of Advent and Christmas the following resources are being provided.