Affordable Housing Project Provides a Home for the Holidays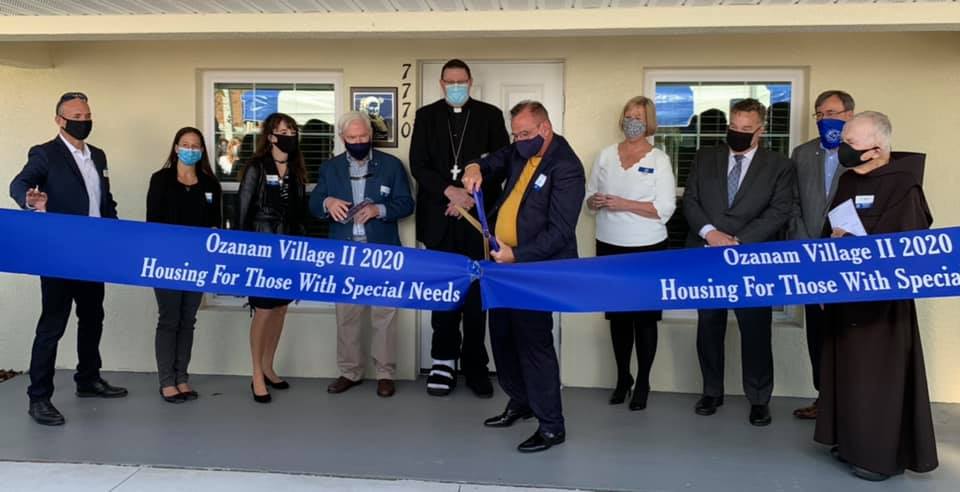 Thanks to the dedication of the people at St. Vincent de Paul CARES, U.S. veteran Ed Merrick will have a home for the holidays. Merrick is one of the first residents of Ozanam Village II, an affordable housing community in New Port Richey for people who are homeless and in need of ongoing support and care. Merrick thanked everyone who made this project a reality and helped him change his life during a ribbon-cutting ceremony and blessing held on November 18, 2020.
"I'm very excited about the opportunity to live in these homes. They're very beautiful, just outstanding. I just can't tell you how grateful I am for everything," said Merrick through tears. "And I'm proof that it works. St. Vincent de Paul does care. And that means a lot."
At 58-years old, Merrick lost his job. As his finances and savings dwindled, he was forced to sell his car, which made finding a new job even more difficult. On the brink of homelessness, his apartment complex handed him a list of organizations to call for help.
"I started calling all these charitable organizations. Nine out of 10 of them said, 'Leave a message, we'll get back to you.' St. Vincent de Paul didn't do that," explained Merrick, who said that not only was he able to speak to someone on the phone, but soon afterwards, caseworker Brandie Grizzel appeared at his door and has been at his side ever since.
"She's been instrumental. She's been a best friend; she's been a confidant. She provided leadership. She even took time out of her schedule last year to bring me a Thanksgiving dinner delivered to my door. She pointed me in so many different directions to help with rent and utilities," said Merrick emotionally.
"With the help of St. Vincent de Paul, my life has changed completely."
Ozanam Village is named for Blessed Frederic Ozanam who founded the Society of St. Vincent de Paul in France in 1833 and was beatified in 1997. He began the model of relational, personal assistance that still continues today, with most conversations happening over a kitchen table or couch instead of a meeting room or office.
"Carrying the name St. Vincent de Paul carries a lot of responsibility to us at the local level, carrying on hundreds of years of tradition, of love and of support and of dignity for those that we embrace to serve," said Michael Raposa, CEO of St. Vincent de Paul CARES. "We believe that the people we serve are our bosses. We put them first and we work hard to make sure that they are well taken care of."
Raposa and his team are committed to ending homelessness: making it rare, brief, and one-time. All St. Vincent de Paul CARES programs are built on the belief that everyone has the right to live in dignified and affordable housing, without regard to employment history, criminal/credit background, mental health, addiction, or religious practices. They work to rapidly house those experiencing homelessness within 30 days and connect them to support services to assist their needs. Ozanam Village II with 30 units, is the second of three planned affordable living communities, which will provide 90 homes to people in need and support the diocesan Courageously Living the Gospel priority of establishing 8 – 10 affordable housing locations throughout the diocese's five counties.
"It is a day of joy here in our Diocese. I know it comes with a lot of great effort, a lot of patience and a lot of persistence. This truly is a blessing to add this here in our diocese. You share in our vision of Courageously Living the Gospel, and for that I'm very grateful," said Bishop Gregory Parkes prior to blessing the new community. "When somebody has a home and an address, they have safety, they have security and they have dignity. That's something that every single person should have."