All Are Invited to Third International Congress in Honor of the Hearts of Jesus and Mary June 8 – 10, 2018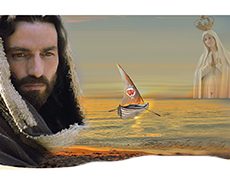 Families, youth and young adults are invited to participate in a special event that will help you draw closer to Jesus and strengthen you on your faith journey. The Servants of the Pierced Hearts of Jesus and Mary invite you to their Third International Congress in honor of the Hearts of Jesus and Mary, June 8-10, 2018 in Miami. They have brought together an inspirational line-up of speakers from across the world who will touch the hearts of participants and lead them toward the holiness that God desires for each of us, especially in our families. This event happens approximately every 7 years and more than 5,000 attendees are expected from a variety of different countries.
The theme this year is: "Be not Afraid to be the Saints and Apostles of the Third Millennium."
The line-up of internationally recognized speakers include:
Slawomir Oder, postulator of the sainthood cause of St. John Paul II
Gianna Emanuela Molla, Daughter of Saint Gianna Molla
Immaculee Ilibagiza, Author and Survivor of Rwandan Genocide
Archbishop Thomas Wenski of Miami
Archbishop Francisco Ozoria of Santo Domingo
Archbishop Mieczyslaw Mokrzycki of Liv, Ukraine
Bishop Jaime Fuentes of Minas, Uruguay
Father Jean-Marie Simar, Rector of the Alencon Shrine, dedicated to the parents of St. Therese of Lisieux
Mother Adela Galindo, Foundress of the Religious Institute, "Servants of the Pierced Hearts of Jesus and Mary"
Maria Teresa Badano, Mother of Blessed Chiara Luce
For list of all speakers and for more information, visit: http://www.piercedhearts.org/
Location of the event:
Doubletree By Hilton & Miami Airport Convention center
711 NW 72nd Ave, Miami, FL 33126 | PH: (305) 261-3800
Password to reserve special room rate: "BE NOT AFRAID"
Conference Price: $50/per person for the entire weekend.
Conference also includes a free concert by Grupo Emmanuel, Saturday, June 9, at 9:30 p.m.
Congress flyers are available for download in English and Spanish.
Concert flyers are available to download in English and Spanish.