Announcements ~ April 17, 2023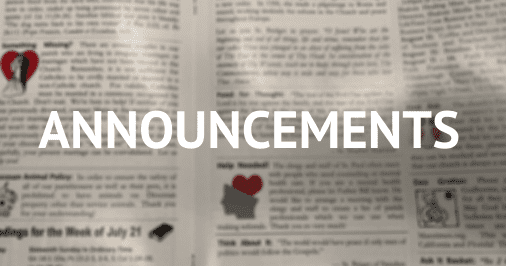 DIOCESAN OFFICES
Join Us for the 2023 Marian Congress on Saturday, May 13, 2023
Bishop Gregory Parkes invites you to the fifth annual Diocese of St. Petersburg Marian Congress to be held at the Cathedral of St. Jude the Apostle (5815 5th Avenue N., St. Petersburg).  The theme this year is 'Mary and the Eucharist."  The Eucharist is the source and summit of our faith and we encounter the risen Christ each time we receive our Lord in Holy Communion.  Our Blessed Mother has a special role in leading us to her son Jesus in the Eucharist.  This day of joy, renewal and prayer will include dynamic speakers, Adoration of the Blessed Sacrament, a multicultural Rosary and Mass with Bishop Gregory Parkes.  The date to begin your preparation for consecration is Monday, April 10th.  Visit FloridaMarianCongress.org to learn more.
2023 Promotional Materials (English and Spanish).
---
PARISHES/ORGANIZATIONS
St. Lawrence Catholic School Night of the Arts
Thursday, April 27th from 3:30 PM to 6:00 PM, please join in celebrating an afternoon of art created and performed by the students of St. Lawrence Catholic School, 5223 N Himes Ave, Tampa, FL 33614.  This event will take place in the Art Gallery/Theatre/Celtic Hall where attendees can enjoy student artwork, a bake sale, ice cream, crafts outside, & student performances.
Donations big or small to help cover costs are greatly appreciated. For more information, please email contact@stlawrence.org.
---
Spring Tea & Fashion Show
Foundations of  Life  Pregnancy Center invites you to Spring Tea and Fashion Show on Saturday, May 20, 2023, from 11:00 AM to 2:00 PM at Highlands at Scotland Yard  Clubhouse, 9420 US Highway 301, Dade City FL 33525.
For reservations please contact, Foundations of Life Dade City:  352-521-1218.
Tickets are $35 in  advance ($40 at the door); table reservations $280 (8  guests).
RSVP deadline is May 12, 2023.
Promotional graphics:  Flyer, small graphic
---
Eli's Story and Catholic Reaction to the Holocaust
Thursday, April 27th, 7:00 –  8:30 pm
Florida Holocaust Museum, St. Petersburg FL
The CCJS and the Florida Holocaust Museum invite you to engage a panel of scholars who will discuss the story of Eli Rochelson and the question of Catholic reaction to the Holocaust and displaced persons after the Second World War. 
This CCJS and FHM program features a panel of distinguished scholars, including two of Eli Rochelson's children, Dr. Meri-Jane Rochelson, and Dr. Burt Rochelson. They, along with the esteemed Holocaust scholar Fr. Kevin Spicer, will discuss how Eli's story sheds important light on the Jewish experience of the Holocaust and Jewish displaced persons. 
More information at this link:  https://tinyurl.com/mvubsc7v.
Flyer at this link:  https://shorturl.at/jrxzM.
PILGRIMAGES AROUND THE DIOCESE

Parish Pilgrimages
If your parish is offering a pilgrimage within the coming months, we invite you to share this information with the Pastoral Bulletin: pastoralbulletin@dosp.org.  This allows readers to view opportunities to participate in an upcoming pilgrimage.
The pilgrimages are posted in the Diocesan website under the Pastoral Bulletin page at this link:  https://www.dosp.org/pastoralbulletin/pilgrimages/.