Announcements ~ April 24, 2023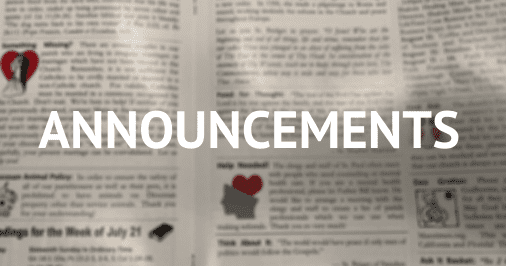 DIOCESAN OFFICES
Prison Ministry Invitation
I was in prison and you visited me…(Mt 25:36).  Have you ever considered ministry to the incarcerated?  Spreading the Good News of a loving and forgiving Father can make all the difference in the world to someone search for the path to salvation or who feels alone and forgotten.  If you can spare 2 hours, one weekend a month, consider ministering those incarcerated.   Contact the Office of Prison Ministry at 727-344-1611 or prisonmn@dosp.org.  Thank you for opening up your heart. 
PARISHES/ORGANIZATIONS
Blue Mass for First Responders
All are welcome to the Blue Mass for first responders at St. Michael the Archangel Catholic Church, 2281 State Road 580, Clearwater, on Thursday, May 18, 2023 at 11:00 AM.  Fr. Ted Costello will be the main celebrant.
Flyer at this link:  https://tinyurl.com/yc2ukacc.
PILGRIMAGES AROUND THE DIOCESE



Parish Pilgrimages
If your parish is offering a pilgrimage within the coming months, we invite you to share this information with the Pastoral Bulletin: pastoralbulletin@dosp.org.  This allows readers to view opportunities to participate in an upcoming pilgrimage.
The pilgrimages are posted in the Diocesan website under the Pastoral Bulletin page at this link:  https://www.dosp.org/pastoralbulletin/pilgrimages/.