Announcements ~ April 25, 2022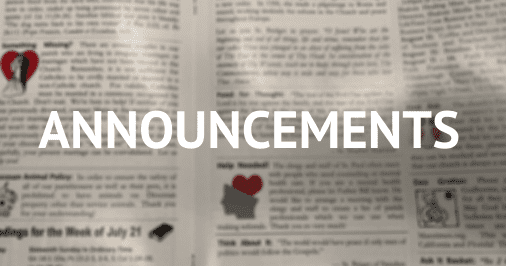 DIOCESAN OFFICES
Did You Know?
Five Steps to Safer Environments
The Diocese of St. Petersburg mandates that all people who work with children and youth in our parishes and schools must undergo child abuse prevention training through our diocesan Safe Environment Program. The training details five steps to prevent child sexual abuse:
Know the warning signs of an inappropriate relationship with a child.

Control access to children by carefully selecting the adults who work with children and youth.

Monitor all programs for the safety of children and youth.

Be aware of and sensitive to what is going on in the lives of children.

Communicate concerns to the appropriate person in authority.
For particular help you may call: Michael Craig, Safe Environment Program Manager at (727) 344-1611, ext. 5377.
---
Foster Families Needed
This May, during National Foster Care Month, please consider providing a loving home for a child who has been separated from his or her parents. Over 20,000 children in Florida have been removed from their parents or guardians, yet only 5,000 families are certified to meet their needs. If you are interested in learning more about foster parenting, please call 1-83-FOSTERFL or visit MyFloridaMyFamily.com.
If you are interested in immigrant and refugee foster care, please reach out to Bethany Christian Services, Central Florida (https://tinyurl.com/2p935svx); (407) 877-4006. The nurturing environment you provide can help vulnerable children heal and thrive.
PARISHES AND ORGANIZATIONS
Saint Raphael Catholic Church Divorced and Blended Family Ministry
Divorced and Blended Family Picnic
Join us for food, fellowship, and fun in the sun for the whole family at Fort de Soto Park on Sunday, May 22nd after the 11:30 AM Mass.
More details to follow. Visit our page for more information: https://www.st-raphaels.com/divorced-blended-families.
---
Summer Camp Opportunity… For an Adult!
Our Lady of Good Counsel Camp is looking for a healthcare professional certified in basic first aid and CPR to serve in the camp infirmary this summer. This is a seasonal paid position with room and board included.
If you love working with children, exude patience and love, display excellent communication skills, possess a wide range of general medical knowledge including mental health, and can be available for at least 3 consecutive weeks this summer, you may be the right fit! This role is perfect for an active or retired RN, EMT, school nurse, or a person with similar experience.
Our Lady of Good Counsel Camp is the Catholic overnight summer camp for the Diocese of St. Petersburg. 2022 will be our 75th summer!
Learn more and apply at this link: www.goodcounselcamp.org/now-hiring or call the camp office at 352-270-8831.
Promotional image at this link: https://tinyurl.com/2td39bv3.
PILGRIMAGES AROUND THE DIOCESE
Parish Pilgrimages
If your parish is offering a pilgrimage within the coming months, we invite you to share this information with the Pastoral Bulletin: pastoralbulletin@dosp.org. This allows readers to view opportunities to participate in an upcoming pilgrimage. The pilgrimages are posted in the Diocesan website under the Pastoral Bulletin page at this link: https://www.dosp.org/pastoralbulletin/pilgrimages/.