Announcements ~ August 7, 2023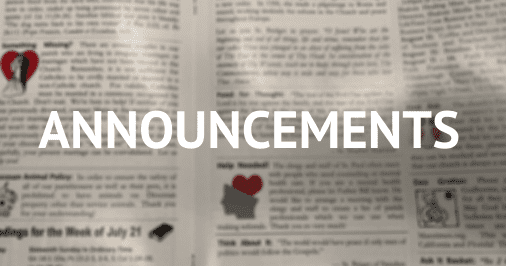 DIOCESAN OFFICES
Pope Francis Invites us to Put the Eucharist at the Center of Our Lives
Pope Francis begins the July 2023, Pope Video saying, "If you are the same at the end of Mass as you were at the beginning, something is wrong." In his July prayer intention, which he entrusts to the entire Catholic Church through the Pope's Worldwide Prayer Network, the Holy Father invites us to place the Eucharist at the center of our lives. Click here to read more and to see the video.   (https://tinyurl.com/5n7m4hx2) 
---
Spirit FM Hopesgiving Fundraiser
The Spirit FM Hopesgiving Fundraiser runs August 21st-25th. Please consider joining us as a partner with your gift of a dollar a day.  Your gift increases the chances that another soul will learn of the Lord's amazing love through our ministry.
For more information, visit www.MySpiritFM.com/hopesgiving.
---
Office of Marriage and Family Life
Mother and Daughter Creighton Fertility Appreciation Day
Christ The King Church, 821 S Dale Mabry Hwy., Tampa
Saturday, September 16, 2023
8:00 am-12:00 pm younger girls  (approximately 7-12 yrs.)
12:00 pm-4:00 pm older girls (approximately 12-19 yrs.)
A special day to start the conversation and increase communication between mother and daughter.
For more information please email us at HANGEL20@hotmail.com.
---
Intercultural Ministries
Misa Hispana Diocesana Anual
La Asamblea Hispana Diocesana te invita a la Misa Hispana Diocesana anual. Este año la misa será en honor a Nuestra Señora del Pilar, patrona de España y de la hispanidad y será presidida por Mons. Gregory Parkes, Obispo de St. Petersburg.  Te esperamos el sábado, 7 de octubre de 2023 a las 11:00 a.m. en la Catedral de St. Jude the Apostle, 5815 5th Ave. North, St. Petersburg.  Acompáñanos en el rezo del rosario a las 10:00 a.m. y en la procesión de las banderas de América Latina comenzando a las 10:30 a.m.
Annual Diocesan Hispanic Mass
Join Bishop Gregory Parkes and the Hispanic community from parishes across the Diocese of St. Petersburg for the Annual Hispanic Mass. This joy-filled celebration will take place on Saturday, October 7, 2023, at the Cathedral of St. Jude the Apostle, 5815 5th Ave. North, St. Petersburg. The Mass begins at 11 a.m., and there will also be a Rosary at 10 a.m. and a Procession of Flags at 10:30 a.m. This year the Mass is dedicated to Our Lady of the Pillar, Patroness of Spain and of all Hispanic peoples. During this Mass, our diverse community unites to worship God together and to honor the many cultures that contribute to our Catholic faith in West Central Florida.
---
Save the date! Fifth Annual Diocesan African Mass
The African Catholics Ministry invites all to celebrate the Fifth Annual Diocesan African Mass. The Mass will be at St. Paul Catholic Church, 12708 N. Dale Mabry Hwy. Tampa, FL 33618, on October 28, 2023 at 12:00 noon.  Come and experience the celebration of the Catholic liturgy with diverse African languages and cultures.  A reception will follow the Mass with samples of African food. For more information, please contact David Kadiri at (520) 822-6822.
Flyer at this link:  https://tinyurl.com/2p8dw2bd.
---
Ministries of Missionary Discipleship
FAST Workshop
Faith and Action for Strength Together (FAST) invites you to an inter-parish workshop on Saturday, September 9, 2023, from 9:30 a.m. to noon in the cafeteria of St. Paul Parish (1358 20th Avenue North, St. Petersburg). Please join us as we dive into scripture and the principles of Catholic Social Teaching as a foundation to guide our discussion on justice in our community today. One of our topics will be the lack of affordable housing in our area, as well as other real -world issues. We will use scripture to develop a road map and help us make the changes we wish to see in our community. 
Flyer available at this link:  https://tinyurl.com/3nmb9w3c.
PARISHES/ORGANIZATIONS
Magnificat Meal-Breakfast
Magnificat of St. Petersburg is excited to welcome all women to our next MAGNIFICAT MEAL-BREAKFSAT from 9:30 AM—12:30 PM, on Saturday,  August 19, 2023,  held in the Parish Center at the Cathedral of St. Jude the Apostle, 5815 Fifth Avenue North, St. Petersburg, FL  33710.   Please also join us for St. Jude's parish Mass held in the Cathedral at 8:15 AM.
For questions or more information, please email:  magnificatofstpetersburg@gmail.com, or text to Linda at (727) 415-2693, or Jane (727) 452-7404.
Flyer at this link:  https://tinyurl.com/5bbz2c8n.
PILGRIMAGES AROUND THE DIOCESE

Parish Pilgrimages
If your parish is offering a pilgrimage within the coming months, we invite you to share this information with the Pastoral Bulletin: pastoralbulletin@dosp.org. This allows readers to view opportunities to participate in an upcoming pilgrimage.
The pilgrimages are posted in the Diocesan website under the Pastoral Bulletin page at this link:  https://www.dosp.org/pastoralbulletin/pilgrimages/.