Announcements ~ December 12, 2022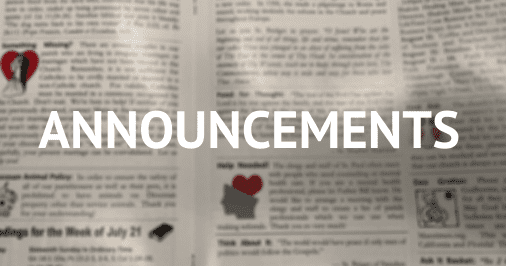 DIOCESAN OFFICES
Annual Red Mass
Tampa Bay Catholic Lawyers Guild's Annual invites you to their annual Red Mass at Christ the King Catholic Church, 821 S. Dale Mabry Hwy, Tampa, FL 33609 on Thursday, January 5, 2023, at 5:30 p.m.  The Mass will be celebrated by the Most Reverend Gregory L. Parkes, Bishop of the Diocese of St. Petersburg. Deacons Eugene Beil and John Schaefer, Sixth Judicial Circuit (Retired) will assist.
A reception* will follow the Mass for Guild members and all in attendance with the opportunity to renew your membership or become a new member of
The Tampa Bay Catholic Lawyers Guild.
*Please RSVP for the Reception to: tomallisonlaw@hotmail.com.
Flyer at this link:  https://tinyurl.com/2s54z3r5.
---
Office of Marriage and Family Life

Marriage Jubilee Mass of Thanksgiving
The Marriage Jubilee Mass of Thanksgiving will take place at the Cathedral of St. Jude the Apostle on Sunday, February 12th at 3:00 pm.  This event honors couples throughout the diocese who will celebrate their 25th anniversary as well as those celebrating 50 or more years of marriage during the 2023 calendar year.  Please RSVP with our parish office by Tuesday, January 17th.
Worldwide Marriage Encounter Weekend
The next Worldwide Marriage Encounter Weekend is January 6-8, 2023, in Lutz.  For more information, contact Steve & Suzie Walden at 813-270-7832.  Apply for the weekend at www.wwme.org and use promo code Save50, for a discounted application fee.
PARISHES/ORGANIZATIONS
Save the Date:  Chris Brunelle in Concert
Chris Brunelle will be in concert in our diocese!  Please reserve the dates of January 23, St. Benedict Parish, 455 S. Suncoast Blvd., Crystal River and January 26th at St. Patrick Parish, 4518 S. Manhattan Ave., Tampa (flyer for this event here.)
---
Winter Concert Series
The 12th annual Winter Concert Series at Saint Mary, Our Lady of Grace Catholic Church in Saint Petersburg begins on Sunday, January 8, 2023 at 3:00 pm with a concert entitled, "Epiphany:  Music to Celebrate the  Season."
Come celebrate the official end of the Christmas season with the VOICES OF GRACE, the ARMONIC BRASS, and the Mighty Viscount organ in a concert of festive Epiphany and Christmas music!
The church is located at 515 4th St S, St. Petersburg, FL 33701.
This one-hour concert is FREE and open to all.  For more information call Michelle Rego at 727-896- 2191 ext. 208.
PILGRIMAGES AROUND THE DIOCESE

Parish Pilgrimages
If your parish is offering a pilgrimage within the coming months, we invite you to share this information with the Pastoral Bulletin: pastoralbulletin@dosp.org.  This allows readers to view opportunities to participate in an upcoming pilgrimage.  The pilgrimages are posted in the Diocesan website under the Pastoral Bulletin page at this link: https://www.dosp.org/pastoralbulletin/pilgrimages/.