Announcements ~ December 14, 2020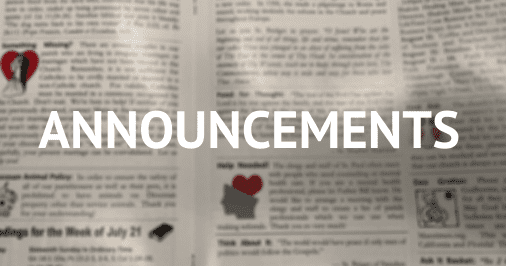 DIOCESAN OFFICES
Office of Communications
Bishop Parkes Christmas Message
Bishop's 2020 Christmas Message is available for publication in your bulletins. We have the following versions:
English PDF: https://bit.ly/3nh0mlq and PNG: https://bit.ly/2Wa9NqV
Spanish PDF: https://bit.ly/2LzNPLT  and PNG:  https://bit.ly/3oUOjKZ
If you need another format, contact Teresa Peterson, tlp@dosp.org.
Christmas With Bishop Gregory Parkes
Those who are unable to attend in person are invited to celebrate Christmas Eve Mass with Bishop Gregory Parkes via livestream from the Cathedral of St. Jude the Apostle at 10:00 p.m. on Thursday, December 24th. All are invited to pray along virtually online at  www.dosp.org/livestream, www.facebook.com/DioStPete and www.YouTube.com/DioceseofStPete or listen to Spirit FM 90.5 at midnight for a broadcast presentation.
Editors: Please find bulletin/social media graphics below:
Square:  https://www.dosp.org/squarelivestream/
Horizontal:  https://www.dosp.org/horizontal-livestream/
Rectangle:  https://www.dosp.org/rectangle-livestream/
---
Abundance Holy Hour for Vocations & Discernment Group
All are welcome and invited to attend the Abundance Holy Hour for Vocations on Wednesday, December 16th at 6:30 pm at the Cathedral of St. Jude the Apostle,
Please note, the holy hour is no longer being live streamed.  We hope you can join us in person.  Social distancing protocols are in place and we ask that you please wear a mask.
The Holy Hour will be lead by Deacon Izzie Hernandez, a seminarian for the Diocese of St. Petersburg.  Following the Holy Hour, Deacon Izzie will lead a discernment group for men ages 15-35.  See flyer at this link:  https://bit.ly/34cGEzz for information and to RSVP for the discernment group.
---
Parish Resources for End-of-Year and Beyond
Did you know that all charitable contributions made by year-end 2020 are 100% tax deductible up to the amount of an individual's Adjusted Gross Income? In addition, gifts to qualified charities result in a $300 deduction for single filers and a $600 deduction for married filers, whether itemizing or not. For more information, please go to
https://catholicfoundation.org/parish-resources/
.