Announcements ~ February 22, 2022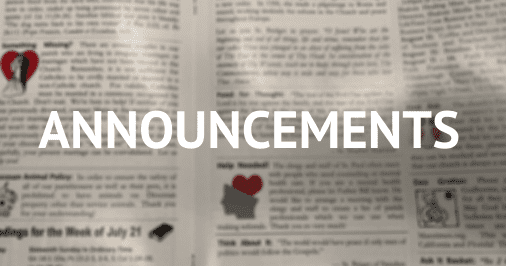 DIOCESAN OFFICES
Did You Know?
Assistance Ministry Helps Abuse Victims
Did you know that outreach to victims of sexual abuse is one of the ministries offered by the Diocese of St. Petersburg? The diocesan Victim Assistance Minister provides assistance towards healing by means of therapy, spiritual direction, and mutual support groups.
If now, or at any time in the past, a priest, deacon, or other person representing the Church has sexually abused you, you are urged to contact John Lambert, LCSW, Victim Assistance Minister at (866) 407-4505.
For particular help you may also call: Michael Craig, Safe Environment Program Manager at (727) 344-1611, ext. 5377.
---
Take Action for Afghanistan
Afghanistan is on the brink of a humanitarian catastrophe. This winter, 23 million people face food insecurity and possible famine. As prices skyrocket, families cannot access cash to pay for food, medicine or other basic necessities. The U.S. government must address the economic drivers of this crisis to prevent further suffering and save lives. Urge the current Administration to facilitate banking access for Afghans and find new ways to support the country's critical services like hospitals, schools and utilities.  Take ACTION now: https://www.crs.org/help-afghanistan.
---
PARISHES AND ORGANIZATIONS
12th Annual Tampa Bay Men's Conference
Men of the diocese: Please join us on Saturday, February 26th for the 12th Annual Tampa Bay Men's Conference featuring Fr. Larry Richards, Dr. Ray Guarendi and a Personal Witness Talk. This year's conference theme is "Behold, I make all things new," an appropriate and important scriptural message for our times. In-person and Virtual live stream attendance options are available. For more information and to register, visit SuncoastCatholicMinistries.com.
---
Saint Leo University's Center for Catholic-Jewish Studies Hosting March 3 Panel Discussion on '-Isms'
As the number of dangerous "isms" continue in the United States, there is an increased awareness of how closely these forces are interrelated. Saint Leo University's Center for Catholic-Jewish Studies will host "Theological Perspectives on Nationalism, Antisemitism, and Racism in the U.S. Today,"  on March 3, 2022 from 7:00 – 9:00 p.m., via Zoom. This free program is co-sponsored by Congregation Kol Ami, Tampa Jewish Community Centers & Federation, and St. Timothy Catholic Church in Lutz.
Register at www.saintleo.edu/theological. Participants will receive a Zoom link. For information, email matthew.tapie@saintleo.edu.
---
Women's Day of Prayer:  "Unity and the Power of Prayer"
Maryknoll Fathers and Brothers will host a Women's Day of Prayer webinar on Saturday, March 5, 2022, at 11:00 AM ET.
The program will open with a brief prayer service with a reflection from Fr. Leo Shea, M.M., followed by a talk by Keynote speaker Deirdre Cornell, Maryknoll magazine Associate Editor and Orbis Book author.  Ms. Cornell will speak on the Virgin Mary's universality within the Christian community and beyond. Attendees will have an opportunity to share prayer intentions at the close of the program.
This is a free webinar, and women of all faiths are welcome.  The event is being sponsored by Maryknoll Fathers and Brothers' Community Outreach Program. Registration is required and can be completed by visiting https://MaryknollSociety.org/Womens-Day-of-Prayer.  Additional information can be obtained by call 914 941-7590.
---
PILGRIMAGES AROUND THE DIOCESE
Parish Pilgrimages
After a long absence due to the pandemic, the Pastoral Bulletin is once again including information on parish pilgrimages.  If your parish is offering a pilgrimage within the coming months, we invite you to share this information with the Pastoral Bulletin: pastoralbulletin@dosp.org.  This allows readers to view opportunities to participate in an upcoming pilgrimage.  The pilgrimages are posted in the Diocesan website under the Pastoral Bulletin page at this link: https://www.dosp.org/pastoralbulletin/pilgrimages/.