Announcements ~ February 27, 2023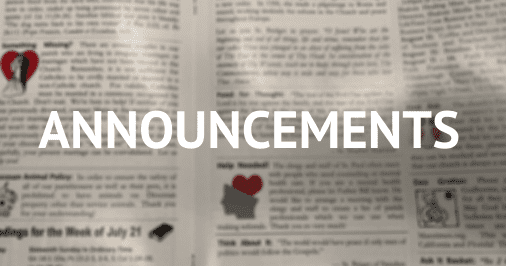 DIOCESAN OFFICES
Safe Environment Office
Did You Know?
The Prevalence of Abuse in Society
In surveys of adults, one out of five women and one out of ten men reported that they were sexually molested before they were 18 years old. This means that an estimated 40 million adult survivors of child sexual abuse are living in the United States today.  An estimated 9.6% of all school children will be molested by an educator or an employee of a school between kindergarten and 12th grade. Between 13 and 34% of all females will be victims of sexual assault before the age of 18, and 7 to 16% of all males will also be victimized before they are 18.
For particular help you may call John Lambert, LCSW, Victim Assistance Minister at (866) 407-4505.
_____
Source: D. Finkelhor, "Current Information on the Scope and Nature of Child Sexual Abuse," The Future
of Children 2 (1994): 31-53.
---
5a Conferencia Anual Hispana para Hombres "La Eucaristia en tu Vida"
Presentada por la Diócesis de St. Petersburg y Suncoast Catholic Ministries.  El evento será el sábado, 15 de abril de 2023, de 7:30 a.m. a 3:00 p.m., en el salón social de Nativity Catholic Church (705 E. Brandon Blvd., Brandon, FL).  Conferenciantes invitados: el P. Pedro Núñez (Predicador y conductor de programas de radio y televisión en EWTN) y el P. Rafael Capó (Predicador Eucarístico Nacional y Decano de Teología de la Universidad St. Thomas en Miami).  Los boletos incluyen el almuerzo.  Boletos individuales: $35.  Combo de padre/hijo: $20 cada uno.  En la puerta (si quedaran): $40.   Para obtener boletos y más información visita:  http://suncoastcatholicministries.com/espanol.
Editor del boletin parroquial:  Graficas para promover el evento disponibles en los siguientes enlaces:
Slide #1
Slide #2
Flyer: PDF | Jpeg
5th Annual Hispanic Men's Conference "THE EUCHARIST IN YOUR LIFE"
Presented by the Diocese of St. Petersburg and Suncoast Catholic Ministries.  The event (in Spanish) will be held on Saturday, April 15, 2023, from 7:30 a.m. to 3:00 p.m., in the Social Hall of Nativity Catholic Church (705 E. Brandon Blvd., Brandon, FL.) Guest Speakers are Fr. Pedro Núñez (EWTN radio and television host) and Fr. Rafael Capó (National Eucharistic Preacher and Dean of Theology at St. Thomas University in Miami.) Cost is $35 per individual ticket, and $20 per ticket for father and son attending together. Cost at the door (if tickets still available) is $40.  To buy tickets and for more information, visit:   http://suncoastcatholicministries.com/espanol.
---
PARISHES/ORGANIZATIONS
St Patrick's Day Warmup Party
Saturday, March 11 at 6:00 PM
Eat, drink, and be Irish! Join us at Our Lady of Lourdes Conmy Center, 750 San Salvador Dr, Dunedin, for Shepherd's Pie, corned beef & cabbage, dessert, beverage, live Irish music, and award-winning dancers!  All proceeds go to teens for World Youth Day.
Purchase tickets online:  https://Ourladydunedin.org/stpatrick or at the parish office.
---
Discipleship, Stewardship, & Evangelization Parish Mission
Blessed Trinity Catholic Church presents Casting Nets Catholic Ministries.  Be a part of restoring the Sacred, through this powerful and transformative parish mission.  Chris Stewart and Tony Brandt's tested and proven principles allow for effective evangelization modeled on the life of Jesus.
Join us on March 12, 13,  and 14, at 7:00 p.m. in the church (1600 54th Ave S, St. Petersburg).  Contact the parish office for more information, 727-867-3663.
Flyer at this link:  https://tinyurl.com/mpzyt6j8.
---
Eucharistic Miracles of the World Exhibit
All are invited to St. Raphael Catholic Church (1376 Snell Isle Blvd., St. Petersburg) to view the Eucharistic Miracles Exhibit by Blessed Carlo Acutis on March 17th-19th.  The exhibit hours are Friday evening, 5-8 pm, Saturday, 8:30 am – 4:00 pm, and Sunday, 8:30 am – 7 pm.  Come make a Lenten pilgrimage with the whole family.
For more details visit:  https://www.st-raphaels.com/eucharistic-miracles-exhibit.
---
Lenten Retreat at the House of Prayer
The Marian Servants of Divine Providence are hosting a weekend retreat on our property, 711 S. Bayview Ave., Clearwater 33759, the weekend of March 31, 2023 thru April 2, 2023.
The theme of the retreat is:  "And I will give you new hearts" and it will be presented by Fr. Shawn Monahan, OMV.
The invitation of this Lenten retreat is to discover how our hearts have been broken, and how they can be healed & transformed by the power of His merciful gaze and live a more abundant life.
For more information and to register for the retreat please visit:  divineprovidence.org/events; email: info@divineprovidence.org or ph. 727-797-7412.
Flyer available at this link:  https://tinyurl.com/48nd64sx.
---
PILGRIMAGES AROUND THE DIOCESE

Parish Pilgrimages
If your parish is offering a pilgrimage within the coming months, we invite you to share this information with the Pastoral Bulletin: pastoralbulletin@dosp.org.  This allows readers to view opportunities to participate in an upcoming pilgrimage.  The pilgrimages are posted in the Diocesan website under the Pastoral Bulletin page at this link: https://www.dosp.org/pastoralbulletin/pilgrimages/.