Announcements ~ February 6, 2023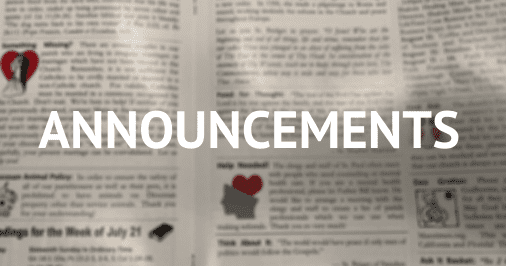 DIOCESAN OFFICES
Receive a Daily Reflection to Help You Be Courageous
Join over three thousand other Catholics who receive a daily "Be Courageous" reflection from the Diocese of St. Petersburg. Our mission is to proclaim the Gospel and invite others into a relationship with Jesus Christ. This takes courage! Our daily Scripture reflections written by local Catholics can help you live this mission. To sign up, visit BeCourageousEachDay.org or text REFLECTION to 84576.
Promotional Graphic at this link:  shorturl.at/jtBL3.
---
CRS Rice Bowl ~ Prepare to bring Lent to Life!
Each Lent, parishes and schools participate in Rice Bowl, the Catholic Relief Services' (CRS) educational program of prayer, fasting, and giving. 75% of the collection is sent to CRS headquarters to fund projects that help to prevent hunger and poverty around the world.  The 25% retained by our Diocese is made available for small grants of up to $1,000.00.  Diocesan entities may apply for assistance in funding innovative hunger and poverty alleviation efforts, justice education, or start-up for CRS projects.   Applications are due by Wednesday, February 15, 2023.   Please click here to download the application.
Learn more at www.dosp.org/life.
PARISHES/ORGANIZATIONS
Indigenous Florida Martyrs – The Cause for Canonization
Wed, March 22, 2023 7:00 pm – 9:00pm | US/Eastern
The Franciscan Center (3010 North Perry Ave., Tampa)
Fr. Len Plazewski is a Vice-Postulator for the canonization of the Martyrs of La Florida. Father Len is a native Floridian with a lifelong passion for Florida history. He is a graduate of the Florida seminaries where he specialized in Church History. Father Len has given many presentations to priests and lay groups on the rich Catholic history of the missions and martyrs of Florida. He is the Pastor at Christ the King Catholic Church in Tampa.
Suggested Donation: $15.00 Includes light refreshments.  For more information, please contact the Franciscan Center at 813-229-2695 or by email: info@franciscancentertampa.org.
Promotional graphic at this link:  shorturl.at/hpQ07.
---
The Courage To Be Chaste In a Self-Obsessed Culture
February 23, 2023 at 6:00 PM
St. Frances Xavier Cabrini Parish, 12001 69th Street E. Parrish, FL 34219
Young people today live in a digital driven world with many social media platforms. They leave the safety of being chaste, to live the supposed freedom & false lies that promiscuity promises. Pam Stenzel, an international speaker, feels it's important that young people hear straight talk…about living an un-chase life, its consequences, and the life and death choices they meet every single day.
For more information, please contact the Parish Office at (941)-776-9097.
Promotional graphic at this link:  shorturl.at/opJQX.
---
Sacred Heart Parish Men's Retreat
Rev. Brendan McManus, S.J., the bestselling author of "Redemption Road: Grieving on the Camino," will lead a guided men's retreat sponsored by Sacred Heart's Men's Prayer Group at the Franciscan Center (3010 N Perry Avenue) on Saturday, February 18th, from 9 a.m. to 4 p.m. The retreat themed to 'walking the walk,' featuring discussions on the Jesuit spiritual tools for navigating life's challenges.  This retreat will dive into how to live a more coherent life through the integration of life and faith, with a focus on handling emotions and enhancing decision making.  The cost for the retreat is $50, and includes lunch and refreshments, and will be followed by a Mass.  Reserve your spot by contacting Jim Rossman at jrossman719@live.com.
Flyer at this link:  shorturl.at/adlCL.
---
Nostra Aetate and the Challenge and Promise of Catholic-Jewish Dialogue
Wednesday, February 15, 2023 from 7:00 to 8:30 pm
During the fall 2022 CCJS event, Why Dialogue Matters, important topics were raised by panelists including the history of Catholic-Jewish relations and Christian views of Jews and Judaism. The CCJS invites you to join a conversation that will explore these topics. The discussion will be led by Dr. Matthew Tapie and Rabbi David Maayan.  Dr. Tapie and Rabbi Maayan will discuss the history of Catholic-Jewish relations, the Second Vatican Council declaration, Nostra Aetate, and the promise and challenge of Catholic-Jewish dialogue today.
This event is free, in-person, and open to the public, but space is limited. The Saint Leo University Tampa Education Center is located at 1403 N Howard Ave, Tampa, FL 33607.  Registration at this link: www.saintleo.edu/ccjs.
For more information, please contact sasha.bergstrasser@saintleo.edu.
PILGRIMAGES AROUND THE DIOCESE

Parish Pilgrimages
If your parish is offering a pilgrimage within the coming months, we invite you to share this information with the Pastoral Bulletin: pastoralbulletin@dosp.org.  This allows readers to view opportunities to participate in an upcoming pilgrimage.  The pilgrimages are posted in the Diocesan website under the Pastoral Bulletin page at this link: https://www.dosp.org/pastoralbulletin/pilgrimages/.