Announcements ~ January 3, 2023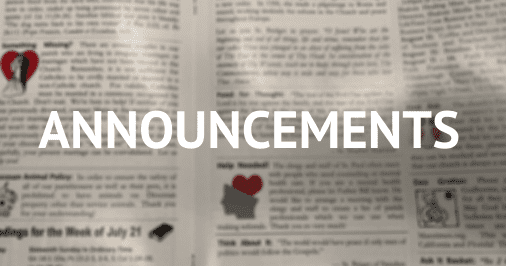 DIOCESAN OFFICES
Office of Communications
Parish/School Plans for the Death of Pope Emeritus Benedict XVI
How is your parish or school observing the death of Pope Emeritus Benedict XVI? Please let the diocesan Office of Communications know of your plans. Please send details and photos to Keishla Espinal as soon as possible so we may compile information to share around the Diocese. Email communicate@dosp.org or call 727-344-1611.
Holy Card for Pope Emeritus Benedict XVI
The Office of Communications has created a holy card for parishes and schools to share with their communities. To view/download, click here: PNG Side One, PNG Side Two, PDF. Also, the United States Conference of Catholic Bishops is providing prayer cards in English and Spanish, and other resources here. To find biographical information about Pope Emeritus Benedict XVI, click here.
---
Office of Marriage and Family Life

Marriage Jubilee Mass of Thanksgiving
The Marriage Jubilee Mass of Thanksgiving will take place at the Cathedral of St. Jude the Apostle on Sunday, February 12th at 3:00 pm.  This event honors couples throughout the diocese who will celebrate their 25th anniversary as well as those celebrating 50 or more years of marriage during the 2023 calendar year.  Please RSVP with our parish office by Tuesday, January 17th.
PARISHES/ORGANIZATIONS
Holy Family Parish – Hand In Hand With Haiti Twinning Committee
On Saturday, January 28th, from 5:30 – 9:00 PM, Holy Family Parish will celebrate 15 years of twinning as we have our annual fundraiser for our sister parish, St. Gabriel in Beau Sejour, Haiti.  The money raised through donations will go to support St. Gabriel Parish and the parish Medical Clinic.  Refreshments, appetizers, and dinner are being prepared by parishioner Dave DeRose.  Hear from Father Jude, the pastor at St. Gabriel parish, and Dr. Roosvelt, a Haitian doctor who makes regular visits to St. Gabriel's medical clinic for our parish.  This dinner will be held in Diffley Hall at Holy Family Parish, 200 78th Ave. NE, St. Pete 33703.   All are welcome.  Please RSVP to the church office if planning to attend, no later than January 24th by calling, 727-526-5783 or visit our website at www.hfcsp.org.
---
Family Retreat / Retiro para la Familia "2023″ with Fr. Felipe (Philip) Scott
Blessed Sacrament Parish, 7001 S. 12th Ave., Tampa, invites you to a family retreat with Fr. Philip Scott.  We will have two sessions as follows:
Español:  Viernes, 17 de febrero; 6:00 p.m. a 9:00 p.m.  y sábado, 18 de febrero; 9:00 a.m. a 5:00 p.m. (almuerzo incluido)
English:  Friday, February 24; 6:00 p.m. to 9:00 p.m. and Saturday, February 25; 9:00 a.m. to 5:00 p.m. (lunch included)
Cost is $45.00 per person/por persona.  (minimum age 20 years), (minimo 20 años de edad)
All proceeds to benefit Blessed Sacrament Catholic Church.
Todos los fondos serán para beneficio de Blessed Sacrament Catholic Church.
Contact / Comunicarse: Grisel Robles (813) 468-4283      Payment / Pago: CashApp, Zelle, cash /efectivo, cheque/check
Flyer at this link:  shorturl.at/uzBDN.
---
Save the Date:  Chris Brunelle in Concert
Chris Brunelle will be in concert in our diocese!  Please reserve the dates of January 23, St. Benedict Parish, 455 S. Suncoast Blvd., Crystal River and January 26th at St. Patrick Parish, 4518 S. Manhattan Ave., Tampa (flyer for this event here.)
PILGRIMAGES AROUND THE DIOCESE

Parish Pilgrimages
If your parish is offering a pilgrimage within the coming months, we invite you to share this information with the Pastoral Bulletin: pastoralbulletin@dosp.org.  This allows readers to view opportunities to participate in an upcoming pilgrimage.  The pilgrimages are posted in the Diocesan website under the Pastoral Bulletin page at this link: https://www.dosp.org/pastoralbulletin/pilgrimages/.