Announcements ~ January 30, 2023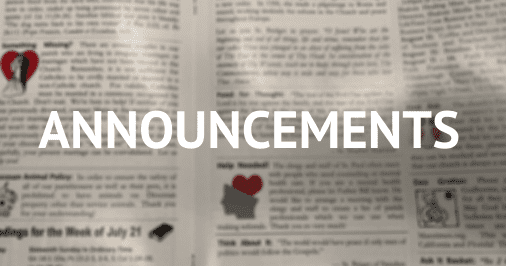 DIOCESAN OFFICES
CRS Rice Bowl ~ Prepare to bring Lent to Life!
Each Lent, parishes and schools participate in Rice Bowl, the Catholic Relief Services' (CRS) educational program of prayer, fasting, and giving. 75% of the collection is sent to CRS headquarters to fund projects that help to prevent hunger and poverty around the world.  The 25% retained by our Diocese is made available for small grants of up to $1,000.00.  Diocesan entities may apply for assistance in funding innovative hunger and poverty alleviation efforts, justice education, or start-up for CRS projects.   Applications are due by Wednesday, February 15, 2023.   Please click here to download the application.
Learn more at www.dosp.org/life.
PARISHES/ORGANIZATIONS
Sacred Heart Parish Men's Retreat
Rev. Brendan McManus, S.J., the bestselling author of "Redemption Road: Grieving on the Camino," will lead a guided men's retreat sponsored by Sacred Heart's Men's Prayer Group at the Franciscan Center (3010 N Perry Avenue) on Saturday, February 18th, from 9 a.m. to 4 p.m. The retreat themed to 'walking the walk,' featuring discussions on the Jesuit spiritual tools for navigating life's challenges.  This retreat will dive into how to live a more coherent life through the integration of life and faith, with a focus on handling emotions and enhancing decision making.  The cost for the retreat is $50, and includes lunch and refreshments, and will be followed by a Mass.  Reserve your spot by contacting Jim Rossman at jrossman719@live.com.
Flyer at this link:  shorturl.at/adlCL.
---
Nostra Aetate and the Challenge and Promise of Catholic-Jewish Dialogue
Wednesday, February 15, 2023 from 7:00 to 8:30 pm
During the fall 2022 CCJS event, Why Dialogue Matters, important topics were raised by panelists including the history of Catholic-Jewish relations and Christian views of Jews and Judaism. The CCJS invites you to join a conversation that will explore these topics. The discussion will be led by Dr. Matthew Tapie and Rabbi David Maayan.  Dr. Tapie and Rabbi Maayan will discuss the history of Catholic-Jewish relations, the Second Vatican Council declaration, Nostra Aetate, and the promise and challenge of Catholic-Jewish dialogue today.
This event is free, in-person, and open to the public, but space is limited. The Saint Leo University Tampa Education Center is located at 1403 N Howard Ave, Tampa, FL 33607.  Registration at this link: www.saintleo.edu/ccjs.
For more information, please contact sasha.bergstrasser@saintleo.edu.
---
2023 Winter Concert Series at Saint Mary's concludes on February 19th
The annual Winter Concert Series at Saint Mary, Our Lady of Grace Parish in Saint Petersburg will conclude on Sunday, February 19, 2023 at 3:00 pm with a presentation entitled "The Power of Music in Film."
This one-hour, FREE concert features oboist Kevin Chavez, and pianist Joshua Cessna, who will use a variety of woodwind instruments to share beloved film themes from past and present decades,
All are welcome to attend. Saint Mary's is located at 515 4th Street South in Saint Petersburg, 33701.  For more information, call Michelle Rego at 727-896-2191 ext. 208.
---
La Escuela de Evangelización San Andrés te invita a un retiro de cuaresma:  "Tetélestai"
Ven a contemplar los personajes y escenarios de la última cena, pasión, muerte y resurrección de Jesús que manifiestan su gloria.  Juntos renovemos nuestra experiencia personal del Kerygma para poder seguir anunciándolo con frescura, como testigos y no como una lección aprendida de memoria o desgastada por el tiempo.
Sabado, 25 de febrero y domingo,  26 de febrero, 2023 de 8:00 a.m. – 6:00 p.m.
Most Holy Redeemer Parish (10110 N. Central Ave., Tampa)
Para más información por favor contactarse con:
Elvira Hernández: (813) 965-5829
Rebeca Avellaneda: (813) 577-2407
Most Holy Redeemer: (813) 933-2859
Volante para promocion en este enlace:  shorturl.at/iJQ68.
(St. Andrew School of Evangelization will have a Spanish Lent retreat at Most Holy Redeemer parish in Tampa Florida.  The retreat is called "Tetélestai".   It will take place on February 25 & 26 (Saturday & Sunday). From 8:00 a.m. to 6:00 p.m. both days.)
PILGRIMAGES AROUND THE DIOCESE

Parish Pilgrimages
If your parish is offering a pilgrimage within the coming months, we invite you to share this information with the Pastoral Bulletin: pastoralbulletin@dosp.org.  This allows readers to view opportunities to participate in an upcoming pilgrimage.  The pilgrimages are posted in the Diocesan website under the Pastoral Bulletin page at this link: https://www.dosp.org/pastoralbulletin/pilgrimages/.