Announcements ~ July 11, 2022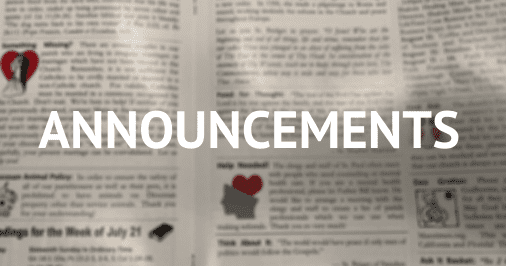 PARISHES AND ORGANIZATIONS
Friends of the Seminary Gala
October 21, 2022
Please mark your calendars to participate in our Friends of the Seminary Gala, in person or via our on-line experience! You will find information at www.svdp.edu/friends2022 and this page will continue to update as we get closer to the event. This event is our largest fundraiser and your support is essential to ensure the continuity of our important mission: Forming priests after the Heart of Christ for the future of the Catholic Church.

The virtual portion will be open to all and include live feed of the Mass and an online auction. We pray that with your support and God's Providence, we will have a successful event! We look forward to a great event!

St. Vincent de Paul Regional Seminary • 10701 South Military Trail • Boynton Beach, FL 33436-4899 • Phone (561) 732-4424, Ext. 162
Promotional graphic at this link.
---
PILGRIMAGES AROUND THE DIOCESE
Parish Pilgrimages
If your parish is offering a pilgrimage within the coming months, we invite you to share this information with the Pastoral Bulletin: pastoralbulletin@dosp.org. This allows readers to view opportunities to participate in an upcoming pilgrimage. The pilgrimages are posted in the Diocesan website under the Pastoral Bulletin page at this link: https://www.dosp.org/pastoralbulletin/pilgrimages/.