Announcements ~ March 13, 2023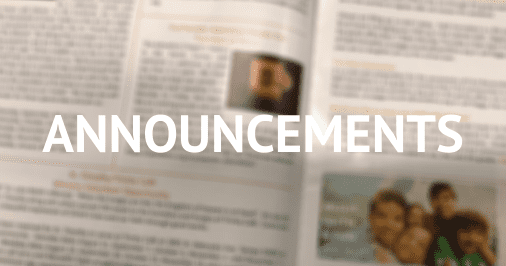 DIOCESAN OFFICES
From the Safe Environment Program Office
Healing Mass for Survivors of Abuse
Once again, a Mass of Healing will be held for those who seek spiritual healing from abuse in all forms, including sexual, physical or emotional, and those who wish to pray for victims/survivors of abuse, their family and friends. The Mass will be held on Saturday, April 29, 11:00 a.m., at the Cathedral of St. Jude the Apostle, 5815 5th Avenue N., St. Petersburg. The community is invited to participate.
During the Mass, those harmed by abuse are invited to call upon Jesus, the Good Shepherd, for comfort, peace and healing. Also, April is National Child Abuse Prevention Month, where greater awareness of the prevention of all forms of child abuse is promoted through various educational and spiritual activities  Opportunities for prayer with a priest or conversation with our Victim Assistance Coordinator, John Lambert, L.M.H.C., will be available following the Mass.
The Mass of Healing for Survivors of Abuse will be livestreamed at these links:  dosp.org/livestream, Youtube.com/DioceseofStPete,  Facebook.com/DioStPete.
Promotional graphic at this link:  https://tinyurl.com/m5zkrbmb.
---
From the Office of Vocations
Save the Day:  Altar Server Appreciation Day
April 29, 2023 from 10:00 AM – 2:00 PM
St. Lawrence Parish, 5225 N. Himes Ave., Tampa
Prayer service with Most Reverend Gregory Parkes, Bishop of St. Petersburg, Altar Server of the Year recognition, food and fun activities for your family.
More information to come.
Promotional flyer at this link:  https://tinyurl.com/yz975huu.
---
2022/23 Rice Bowl Mini Grants Recipients
The Office of Life, Justice and Advocacy is pleased to announce the following recipients of the 2022/23 Rice Bowl Mini Grants, made possible by 25% of local Rice Bowl contributions retained for local use.  Congratulations to the following parishes and organizations:  Nativity Catholic Church – Pastoral Care Ministries; Resurrection Catholic Church, St. Anthony's Food Pantry – Filling the Gap; St. Justin Martyr Catholic Church – Table of Plenty; St. Thomas Aquinas Catholic Church, St. Vincent de Paul Society – Pack a Sack Food 4 Kids; Catholic Charities Foundations of Life Pregnancy Center; Catholic Charities Food Pantry, Pasco County; Catholic Charities – Knights Women's Center; St. Jerome Catholic Church Homeless Ministry – Eggcellent Devils; Our Lady Queen of Peace Parish, St. Vincent de Paul – Pack a Sack Program.
---
PARISHES/ORGANIZATIONS
Living Joy, presented by Chris Stefanick
Monday, April 3, 2023 at 7:00 PM
St. Raphael Parish, 1376 Snell Isle Blvd. NE, St. Petersburg
Chris Stefanick is an internationally acclaimed author, speaker, and television host who has devoted his life to inspiring people to live a bold, contagious faith.  The event is free and the space is limited.
Please RSVP at this link:  https://st-raphaels.com/chris-stefanick.
Promotional flyer at this link:  https://tinyurl.com/5n83zpe6.
---
Disciples on a Mission: 2023 Lenten Parish Mission
You are invited to join St. Catherine of Siena and St. Cecelia's Lenten Mission, "Casting Nets", with DYNAMIC speakers Tony Brandt and Chris Stewart, sharing amazing stories of faith and hope.
From 7:00 – 8:30 PM
March 19 – 21, 2023, St. Catherine of Siena, 1955 S Belcher Rd, Clearwater, FL 33764
March 27 – 29, 2023, St. Cecelia, 820 Jasmine Way, Clearwater, FL 33756
Speakers Tony and Chris will discuss the three pillars of the spiritual life in the light of the New Evangelization. Prayer, almsgiving, and fasting have a transforming effect on us and on all those we encounter. Help us prepare for this mission by inviting anyone you feel God is calling you to reach out to this Lenten season.   All are welcome!
Promotional Flyer at this link:  https://tinyurl.com/32fh3hdt.
---
Live Stations of the Cross
St. Cecelia Catholic Church, 820 Jasmine Way, Clearwater, invites you to join their community on Good Friday, April 7, 2023 after the 3:00 PM Service for the Live Stations of the Cross.  All are welcome!
Promotional Flyer at this link:  https://tinyurl.com/d5b6a3f4.
---
PILGRIMAGES AROUND THE DIOCESE

Parish Pilgrimages
If your parish is offering a pilgrimage within the coming months, we invite you to share this information with the Pastoral Bulletin: pastoralbulletin@dosp.org.  This allows readers to view opportunities to participate in an upcoming pilgrimage.  The pilgrimages are posted in the Diocesan website under the Pastoral Bulletin page at this link: https://www.dosp.org/pastoralbulletin/pilgrimages/.