Announcements ~ May 15, 2023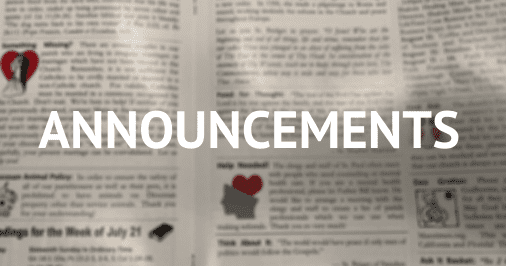 DIOCESAN OFFICES
Reach 250,000 People With Your Message
This September, the Diocese of St. Petersburg is launching a new magazine to lead people closer to Christ and His Church. Gulf Coast Catholic will be mailed into 100,000 homes reaching a readership of 250,000 in West Central Florida. We are currently inviting business and ministries to be a part of this exciting initiative as an advertiser/supporter. This is a wonderful opportunity for you to grow your business or ministry, reach new people and share the Light of Christ. To learn more, visit www.GulfCoastCatholic.org/advertise or email advertise@dosp.org.
Promotional graphic at this link.
PARISHES/ORGANIZATIONS
Mary Help of Christians Family Festival
May 21, 2023 from 10:00 AM – 2:00 PM
All are invited to Mary Help of Christians (6400 E. Chelsea St., Tampa)  to honor our Patroness, Mary Help of Christians! It will be a beautiful celebration consisting of Mass, a Rosary procession, and the Crowning of Mary, followed by Food with Festivities.
For more information, please contact Carolyn at the Center at (813) 626-6191 or visit mhctampa.org and/or MHC Family Festival Event Page (https://www.mhctampa.org/event/mary-help-of-christians-family-festival/)
---
Invitation to join the Secular Franciscans, St. Michael the Archangel Fraternity,  Tampa
Who are Secular Franciscans?
We are men and women – your neighbors, coworkers and friends – who  have chosen to permanently follow the Gospel Life and walk in the footsteps of St. Francis of Assisi.  We are practicing Catholics.  We are single or married. We are mothers, fathers, sisters, brothers, sons and daughters.
How do you become a Secular Franciscan?
Visiting a monthly fraternity gathering and meeting of Secular Franciscans is a good first step.
COME AND SEE WHO WE ARE!
St. Michael the Archangel Fraternity,  Tampa
Meets 2nd Saturday at 10:00 AM, Sacred Heart Parish, Alumni Hall, Sacred Heart North Campus, 3515 N. Florida Avenue, Tampa, Florida 33603.
Contact Lynne Float, Vice Minister at (410) 419-4009, pmfloat@hotmail.com.

PILGRIMAGES AROUND THE DIOCESE

Parish Pilgrimages
If your parish is offering a pilgrimage within the coming months, we invite you to share this information with the Pastoral Bulletin: pastoralbulletin@dosp.org.   This allows readers to view opportunities to participate in an upcoming pilgrimage.
The pilgrimages are posted in the Diocesan website under the Pastoral Bulletin page at this link:  https://www.dosp.org/pastoralbulletin/pilgrimages/.