Announcements ~ May 16, 2022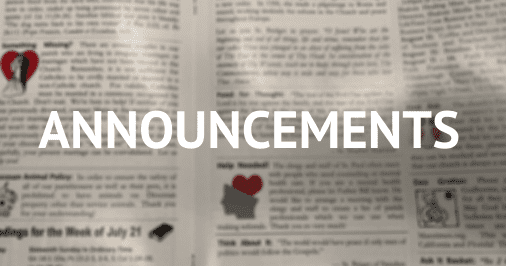 DIOCESAN OFFICES
Memorial Day Mass  
Join us on May 30, 2022 at 10:00 a.m., for the Memorial Day Mass at Calvary Catholic Cemetery, 11801 US Highway 19 North, Clearwater.
Reverend Hugh Chikawe,  Chaplain for Catholic Cemeteries, will be the main celebrant. Please join us for this special Mass, as we remember those who gave their lives in service to our country and all the souls of the faithful departed.  All are welcome!
---
Did You Know?  Summertime, Safe Time
All teachers, staff, and volunteers in the Diocese of St. Petersburg who work with children must undergo fingerprinting and criminal background checks. (Arch)diocesan guidelines and abuse prevention training programs currently in use emphasize the importance of parents' knowing who has access to their children at school and other Church-sponsored activities.
Summertime is here, and parents should remain vigilant regarding who is granted access to their children. Make sure camp counselors have undergone criminal background checks. And make sure you know the camp's daily routine. In particular, make sure that no camp activity results in a child being left alone with one adult.
All activities should be supervised by more than one adult, and the camp should be open to unannounced drop-in visits from parents.
For particular help you may call: Michael Craig, Safe Environment Program Manager at (727) 344-1611, ext. 5377.
Source: Sharon Womack Doty, "Summer Safety—Monitor All Programs!", VIRTUS, July 17, 2006.
---
Vocations Office
Bishop's BBQ
Men in high school and up are invited for a casual discernment event hosted by the Office of Vocations. The Bishop's BBQ is a great opportunity to get to know Bishop Parkes, Father Chuck, and the seminarians. There will be games, food, and discussion.  Any men interested in attending may register on the Vocations website: https://dospvocations.org/events/bishops-bbq/.
---
Immersion in Spanish Language and Culture
June 12-30, 2022 in Miami, Florida
This three-week course has been designed by SEPI (Southeast Pastoral Institute) especially for bishops, priests, religious and laity who have an interest in serving Latinos and Hispanic ministry. It provides the student with the necessary skills to communicate in Spanish, knowledge of the Hispanic environment in daily life situations, and a pastoral dimension geared toward Hispanic ministry. Integral aspects of the course include basic vocabulary, grammar, and conversation, cultural experiences, daily prayer, the Eucharist, and a study of how Hispanic/Latino presence and ministry has developed over the years.
Information Graphic
Registration Link
You Lead – Young Latino Summer Leadership Institute by SEPI
June 16-24, 2022 in Louisville, Kentucky
You Lead is a program of integral formation designed by SEPI (Southeast Pastoral Institute) that seeks to prepare first-, second-, and third-generation young Latinos in the Southeast to be faithful missionary disciples and effective leaders, in order to serve the Church and society, living out their vocations to the fullest.  The bilingual, two-level program, held in consecutive Summer one-week sessions, will prepare promising young Hispanic leaders, with the potential to impact their communities and local churches.
English Brochure / English Flyer
Spanish Brochure / Spanish Flyer
Registration Link
PARISHES AND ORGANIZATIONS
Saint Leo Men's Basketball Day Camp
Calling all campers entering Second Grade to Seniors in High School to join us for Saint Leo Men's Basketball 2022 Summer Day Camp! The goal of the camp is to not only teach the game of basketball through fundamental skill work and competition to each camper but also work on each camper's leadership and teamwork skills.
Saint Leo Men's Basketball Day camp will run from Monday, June 6th to Thursday, June 9th 2022.  For more information see the flyer for the event at this link: https://tinyurl.com/5fzewkrw or contact Coach Spencer Henke at 352-588-7311 or email:  Spencer.Henke@saintleo.edu.

Saint Leo University Nike Boys Basketball Camp
Calling all boys from age 10-17 for the 2022 Saint Leo University Nike Boys Basketball Camp.  It will run from July 31st through August 3, 2022.  For more information and to register please follow this link for the Camp flyer:  https://tinyurl.com/2p89n3fe or contact Coach Spencer Henke at 352-588-7311 or email:  Spencer.Henke@saintleo.edu.
---
Bible Study Starts May 18th for College Students and Young Adults 18-22
A new Summer Bible Study is starting Wednesday, May 18th at the University of South Florida's Catholic Student Center (13005 N. 50th Street, Tampa). This Bible Study is for you If you attend USF, are home from another college for the summer, or are between 18-22.  Join this relevant and engaging discussion on God's Word and see what God might be speaking to you through Scripture.  Bible Study continues each Wednesday through August 3rd.  RSVPs are helpful but not required.  Just stop in whenever you like.  Email Carly with questions at cbosse@catholicusf.org.
PILGRIMAGES AROUND THE DIOCESE
Parish Pilgrimages
If your parish is offering a pilgrimage within the coming months, we invite you to share this information with the Pastoral Bulletin: pastoralbulletin@dosp.org.  This allows readers to view opportunities to participate in an upcoming pilgrimage.  The pilgrimages are posted in the Diocesan website under the Pastoral Bulletin page at this link: https://www.dosp.org/pastoralbulletin/pilgrimages/.