Announcements ~ May 3, 2021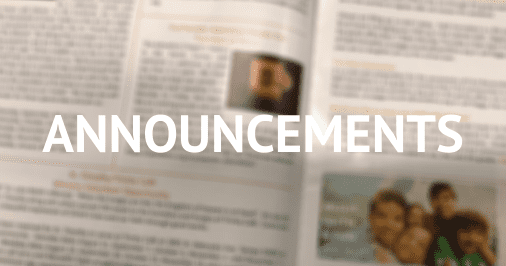 DIOCESAN OFFICES
Diocese of St. Petersburg Annual Courage & Encourage Day of Recollection
Saturday, June 5, 2021
A day of spiritual renewal for Catholic men and women who experience same-sex attraction and desire to live a chaste life. Parents and family members of people who experience same sex attraction are welcome. Enjoy time for reflection in beautiful surroundings. Fr. John Lipscomb and Fr. Alex Padilla will lead this day of prayer and silence under the patronage of St. Joseph.  Suggested $30 donation covers meals. For more information contact encourage.tampabay@gmail.com.
---
Webinar: Evangelizing and Forming Vibrant Communities of Faith
Our diocesan Office of Evangelization & Missionary Discipleship is offering a free webinar on the subject of "Evangelizing and Forming Vibrant Communities of Faith."  The webinar will be held on Tuesday, May 11th, at 10:00 a.m. and is offered for all pastors, parish staff members and parish Missionary Discipleship Team members.  To view an introductory video, follow this link:  https://player.vimeo.com/video/475076109.  A fillable registration form can be found at the following link:  https://bit.ly/3tcATvr.  Please feel free to invite others who wish to add more resources to their Courageously Living the Gospel Missionary Discipleship efforts.  If you have questions about this event, please contact Brian Lemoi: bal@dosp.org.
---
National Foster Care Month
This May, during National Foster Care Month, please consider providing a loving home for a child who has been separated from his or her parents.  Over 20,000 children in Florida have been removed from their parents or guardians, yet only 5,000 families are certified to meet their needs. If you are interested in learning more about foster parenting, please call 1-83-FOSTERFL or visit MyFloridaMyFamily.com.
If you are interested in immigrant and refugee foster care, please reach out to Bethany Christian Services, Central Florida at (407) 877-4006 or at this link: 
bethany.org/locations/us/florida/central-florida. The nurturing environment you provide can help vulnerable children heal and thrive.
---
Pope Francis' Vision: Brothers and Sisters All
What does Fratelli Tutti, the Encyclical of Pope Francis on fraternity and social friendship, have to say that is relevant for believers today? Join us for a discussion on Pope Francis' vision for a new and better future. May 10, 17 and 24 at 7:00 P.M.
May 10th Overcoming Indifference, Jill Rauh, USCCB
May 17th A New Vision (The Dream) Deacon Scott Paine
May 24th The Way Forward (Putting the Vision in Action), Stephen Okey, Ph.D., Saint Leo University and Paige Cargioli, M.A.
Register at www.dosp.org/life  (Find registration links under Ministry of Mercy Online Retreats or Email sab@dosp.org.)
---
Scholarships Are Available to Attend Catholic Schools
Families interested in Catholic schools are encouraged to apply for a scholarship through Step Up For Students by June 1, 2021.  A family of four with an annual income of up to $80,000 may qualify for up to $7,000+ per child, per year to attend a K-12 Catholic school in the Diocese of St. Petersburg. Share this good news with others! Scholarship information is available at www.StepUpForStudents.org/catholic.
Associated graphics are available to download in English or Spanish.
---
Marriage and Family Life
Please consider using the announcement below in your parish bulletin to support those struggling with infertility.
Springs in the Desert
For women suffering with infertility, Mother's Day can be hard. There is hope and healing in community! Springs in the Desert is dedicated to spiritually and emotionally supporting women and couples navigating the frustration, pain and difficulty of infertility. For encouraging blog posts, resources, and a community of support, visit www.springsinthedesert.org.