Announcements ~ May 31, 2022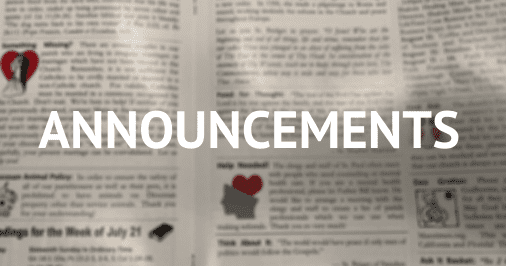 DIOCESAN OFFICES
From the Communications Office
Let Us Adore Jesus
You are invited to join Catholics from across the Diocese of St. Petersburg for a Holy Hour to observe the launch of the National Eucharistic Revival on Sunday, June 19, 2022, the Solemnity of Corpus Christi, at 3:00 p.m. at the Cathedral of St. Jude the Apostle, 5815 5th Ave N, St. Petersburg. The National Eucharistic Revival is a three-year initiative of the bishops of the United States to renew our devotion and belief in the Real Presence of Jesus in the Eucharist.  During the Holy Hour, we will encounter Jesus, who seeks to heal, convert, form, and unify us, and send us forth to Courageously Live the Gospel.  Let us adore Jesus who remains with us always and lead others to share in our joy.  To learn more visit: www.dosp.org/revival.
Adoremos a Jesús
Te invitamos a unirte a los católicos de toda la Diócesis de St. Petersburg en una Hora Santa para observar el lanzamiento del Avivamiento Eucarístico Nacional el domingo, 19 de junio de 2022, Solemnidad del Corpus Christi, a las 3:00 p.m. en la Catedral de St. Jude the Apostle, 5815 5th Ave N, St. Petersburg.  El Avivamiento Eucarístico Nacional es una iniciativa de tres años de los obispos de los Estados Unidos para renovar nuestra devoción y creencia en la Presencia Real de Jesús en la Eucaristía.  Durante la Hora Santa, nos encontraremos con Jesús, quien busca sanarnos, convertirnos, formarnos, unificarnos y enviarnos a Vivir Valientemente el Evangelio.   Adoremos a Jesús que permanece con nosotros siempre y llevemos a los demás a vivir nuestra alegría.  Para obtener más información, visita: www.dosp.org/revival.
Promotional Graphics:
---
United for Life
A new webpage has been created to help Catholics in the Diocese of St. Petersburg continue to pray and advocate for the legal protection of unborn children, support women who are in a crisis pregnancy and support those who have been impacted by abortion to find healing in Christ.
To learn more, visit https://www.dosp.org/unitedforlife/.
---
St. Stephen Gatherings
The Office of the Diaconate will be hosting St. Stephen Gatherings for those interested in learning more about the Permanent Diaconate with plans to begin a new inquiry group in October of 2022.  With Deacons and wives in attendance, this will be an evening of information, conversation, and refreshments.  If you have someone in your community who may have expressed an interest in the Diaconate, please feel free to invite them (both husband and wife) or, better yet, join them for one of these evenings from 6:30 PM to 8:00 PM.
Tuesday, June 21, 2022, Cathedral of St. Jude Parish Center, St. Petersburg
Thursday, June 23, 2022, St. Joan of Arc Parish Center, Spring Hill
Tuesday, June 28, 2022, St. Timothy Parish Center, Lutz
Please contact the Diaconate Office via phone (727) 341-6826 or diaconate@dosp.org to reserve a spot now.  
PARISHES AND ORGANIZATIONS
Saint Raphael Catholic Church Divorced and Blended Family Ministry
UPCOMING EVENT available in person or via Zoom.
To RSVP for the session and/or access the Zoom link, please visit our ministry website https://st-raphaels.com/divorced-blended-families.
Becoming a Smart Stepfamily
Let's talk about common stepfamily challenges. On Wednesday, June 22nd, we'll start tackling stepfamily issues from a Biblical lens through the Smart Stepfamily video series by Ron Deal. We will enjoy great conversation and fellowship.
PILGRIMAGES AROUND THE DIOCESE
Parish Pilgrimages
If your parish is offering a pilgrimage within the coming months, we invite you to share this information with the Pastoral Bulletin: pastoralbulletin@dosp.org.  This allows readers to view opportunities to participate in an upcoming pilgrimage.  The pilgrimages are posted in the Diocesan website under the Pastoral Bulletin page at this link: https://www.dosp.org/pastoralbulletin/pilgrimages/.