Announcements ~ May 9, 2022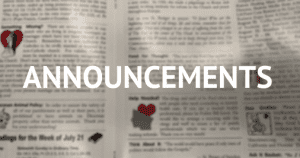 DIOCESAN OFFICES
Ordination to the Priesthood
The Diocese of St. Petersburg joyfully announces the upcoming Ordination to the Priesthood of Reverend Mr. Zachary E. Brasseur and Reverend Mr. Donald J. Amodeo.
Deacons Brasseur and Amodeo will be ordained by Most Reverend Gregory L. Parkes, Bishop of St. Petersburg, on Saturday, May 21, 2022, 11:00 a.m., at the Cathedral of St. Jude the Apostle, St. Petersburg.  The Mass is open to the public and can also be viewed via livestream on our diocesan website:  www.dosp.org/livestream.
You are also welcome to attend the Vespers Service, on Friday, May 20, 2022, 7:00 p.m., at Christ the King Catholic Church, 821 S. Dale Mabry Highway, Tampa. The Vesper Service will also be livestreamed on Christ the King's website: https://ctk-tampa.org/live-mass/.
Please keep Deacons Brasseur and Amodeo in prayer, as they await the day of their ordination to the Sacred Priesthood!
---
St. Stephen Gatherings
The Office of the Diaconate plans to begin a new inquiry group in October 2022, and will be hosting St. Stephen Gatherings for those interested in learning more about the Permanent Diaconate. With Deacons and wives in attendance, this will be an evening of information, conversation, and refreshments. If you have someone in your community who may have expressed an interest in the Diaconate, please feel free to invite them and their wives (if applicable) , better yet, join them for one of these evenings from 6:30 PM to 8:00 PM:
Tuesday, June 21, 2022, Cathedral of St. Jude Parish Center, St. Petersburg

Thursday, June 23, 2022, St. Joan of Arc Parish Center, Spring Hill

Tuesday, June 28, 2022, St. Timothy Parish Center, Lutz
Please contact the Diaconate Office via phone 727-341-6826 or diaconate@dosp.org to reserve a spot now.
PARISHES AND ORGANIZATIONS
St. Petersburg Community Will Gather in Prayer for Law Enforcement and First Responders at Blue Mass
All men and women who serve in law enforcement agencies and as first responders in Pinellas County, the Sheriff's Department, St. Petersburg Police Department, and all who serve and protect in neighboring cities, are invited to the Blue Mass on Saturday, May 21, 2022, at 5:00 p.m. at St. Joseph Catholic Church, 2101 22nd Ave S., St. Petersburg.  Family members, friends, and all supporters are also invited.  A light reception will follow. 
A Blue Mass is a Mass celebrated annually throughout the United State in the Catholic Church for those employed in the "public safety field" (i.e. police officers, firefighters, correctional officers, 911 operators and EMS personnel).  The color blue relates to the blue-colored uniforms predominantly used by these services.  The Mass honors those who have died in the line of duty and those currently serving as first responders.  The Mass is an opportunity for the community to show gratitude to first responders and their families.
---
Bible Study Starts May 18th for College Students and Young Adults 18-22
A new Summer Bible Study is starting Wednesday, May 18th at the University of South Florida's Catholic Student Center (13005 N. 50th Street, Tampa). This Bible Study is for you If you attend USF, are home from another college for the summer, or are between 18-22.  Join this relevant and engaging discussion on God's Word and see what God might be speaking to you through Scripture.  Bible Study continues each Wednesday through August 3rd.  RSVPs are helpful but not required.  Just stop in whenever you like.  Email Carly with questions at cbosse@catholicusf.org.
---
"Two Days With Mary: A Journey Into Our Mother's Heart" – Women of Grace® Benedicta Enrichment Seminar
St. Louis de Montfort describes Mary as the "sanctuary and the repose of the Holy Trinity, where God dwells more magnificently and more divinely than in any other place…"  Take a two-day journey into the Immaculate Heart of Mary.  Presentations, daily Mass, reflection, prayer, and group work led by Johnnette Williams, as well as Fr. Edmund Sylvia, CSC.
May 20-21, 2022, from 9:00 AM to 6:00 PM, Our Lady of Divine Providence House of Prayer, 711 S Bayview Ave., Clearwater, FL.
For more Information: https://www.womenofgrace.com/events/269.
Event Contact: Women of Grace® Benedicta Leadership Institute Thea Parsons info@womenofgrace.com or 1-800-558-5452
---
Sacred Heart to Host Mission Featuring "Bleacher Brothers," Fr. Casey Cole, OFM and Fr. Tito Serrano, OFM
Join your fellow parishioners and visitors from around the diocese on Monday, May 23, at 7 p.m. in the church for a special mission session featuring Fr. Casey Cole, OFM, and Fr. Roberto "Tito" Serrano, OFM, from the successful YouTube channels "Breaking In the Habit" and "Upon Friar Review."
In a bid to emulate the Franciscan missionary model of "meeting people where they are," Cole and Serrano will set out on a unique pilgrimage to all 30 Major League Baseball markets over an 11-week stretch, visiting both Sacred Heart and Tropicana Field along the way. As avid baseball fans, the self-professed "Bleacher Brothers" developed the idea of spending a summer visiting each of the homes of America's pastime nearly a decade ago, with the hope of inviting people back to their spiritual "home base."
Admission for the mission talk is free, and all are welcome! Visit shfla.org/bleacherbros to view their tour announcement video and read more about the friars' upcoming visit.
PILGRIMAGES AROUND THE DIOCESE
Parish Pilgrimages
If your parish is offering a pilgrimage within the coming months, we invite you to share this information with the Pastoral Bulletin: pastoralbulletin@dosp.org.  This allows readers to view opportunities to participate in an upcoming pilgrimage.  The pilgrimages are posted in the Diocesan website under the Pastoral Bulletin page at this link: https://www.dosp.org/pastoralbulletin/pilgrimages/.