Announcements ~ November 13, 2023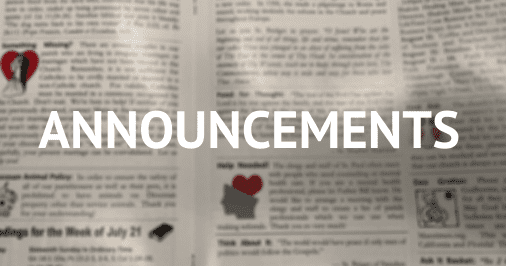 DIOCESAN OFFICES
A New Way to Pray this Advent!
Prepare for the birth of Jesus by reflecting on your faith journey with short inspirational messages sent to you each day via email or text! These messages are written by local Catholics who are eager to share their faith with you!  To sign up, visit BeCourageousEachDay.org or text REFLECTION to 84576.
---
Did You Know?
Five Steps to Safer Environments
The Diocese of St. Petersburg mandates that all people who work with children and youth in our parishes and schools must undergo child abuse prevention training through our diocesan Safe Environment Program. The training details five steps to prevent child sexual abuse:
Know the warning signs of an inappropriate relationship with a child.
Control access to children by carefully selecting the adults who work with children and youth.
Monitor all programs for the safety of children and youth.
Be aware of and sensitive to what is going on in the lives of children.
Communicate concerns to the appropriate person in authority.
For particular help you may call: Michael Craig, Safe Environment Program Manager at (727) 344-1611, ext. 5377.
---
PARISHES/ORGANIZATIONS
Annual Advent Walking with Mary
Join St. John Vianney Catholic Church on Sunday, December 3rd for our annual Advent Walking with Mary at the North Straub Park located at 400 Bayshore Dr NE, Downtown St. Petersburg.
We will meet at the giant Christmas tree at 6:15 PM and will begin the Joyful Mysteries starting at 6:30 PM.
Bring your kids, families and neighbors! Amongst the twinkling lights, decorations and festivities, help us to remind our local community what this beautiful season is truly about! This is a walking event, be sure to wear comfortable shoes.
Please contact Rebecca Lorenzen with any questions: castingnets4him@gmail.com.
---
Emmet Cahill Concert
Holy Family Catholic Church
200 78th Ave NE, St. Petersburg
A Christmas concert by Irish Tenor Emmet Cahill (member of Celtic Thunder) will be held at the church on Sunday, Dec. 10.  There will be two shows: 4:00 PM and 7:00 PM.  Call the parish office for tickets or more information 727-526-5783, or visit https://hfcsp.org/news/emmet-cahill-christmas-concert. All Proceeds benefit Holy Family Parish. 
---
PILGRIMAGES AROUND THE DIOCESE
Parish Pilgrimages If your parish is offering a pilgrimage within the coming months, we invite you to share this information with the Pastoral Bulletin: pastoralbulletin@dosp.org. This allows readers to view opportunities to participate in an upcoming pilgrimage.
The pilgrimages are posted in the Diocesan website under the Pastoral Bulletin page at this link.
---