Announcements November 16, 2020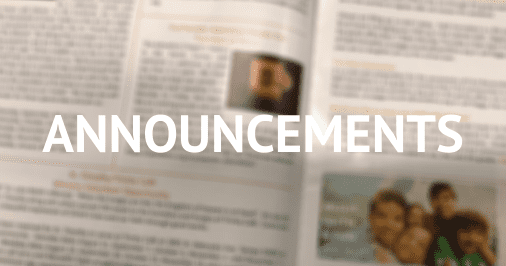 DIOCESAN OFFICES
Office of Communications
Fit Faith Into Your Crazy Busy life with New YouTube Series
Father Connor Penn brings a fresh perspective to the Catholic Church's comprehensive calendar of celebrations, solemnities, and saints' feast days through your Catholic Planner. Each episode will offer practical suggestions for encountering Christ in the week ahead! Visit the diocesan YouTube channel, youtube.com/dioceseofstpete to subscribe. (Note: You must first create an account and then click the red button that says Subscribe.)
Editor: Please find promotional graphics for your use: Bulletin/Social Media Generic, Square one and two, Horizontal one, Rectangle one and two and a promotional video.
Office of Life, Justice and Advocacy
Support the CCHD Collection
Please be generous in this week's special collection for the Catholic Campaign for Human Development. In the United States, one in six people lives in poverty. With this collection, you support programs that address the causes of poverty and provide a sustainable future for those struggling across the country. In addition, 25% of the funds we collect will remain in the Diocese of St. Petersburg to fund local anti-poverty projects. Please prayerfully consider how you can support this collection and work on the margins. More information about the Catholic Campaign for Human Development can be found at www.usccb.org/cchd/collection.
Editor: Additional resources for promoting this collection can be found here.
Leading the Way on Hunger
The COVID-19 pandemic is increasing food insecurity in our communities and escalating the risk of a severe crisis in areas around the world where many already do not have enough nutritious food. As we approach this season of thanks, take some time to view a recent webinar highlighting some of the great international work of Catholic Relief Services as well as some inspiring efforts within our Diocese to feed the hungry and provide hope. https://youtu.be/j4Y4mVDb0Qk
PARISHES AND ORGANIZATIONS
Saint Leo University Creates News Tuition, Financial Aid Program
Saint Leo University believes earning a degree should be accessible, affordable, and obtainable for learners everywhere. The university launched the Dare to Roar program, offering multiple options to help students cover the cost of their education and join the Lions community.
Saint Leo also has expanded and updated its Catholic Promise Award. It now provides a stackable award of $3,000 per year for students working toward a bachelor's degree. More information can be found at https://www.saintleo.edu/daretoroar.