Announcements ~ November 7, 2022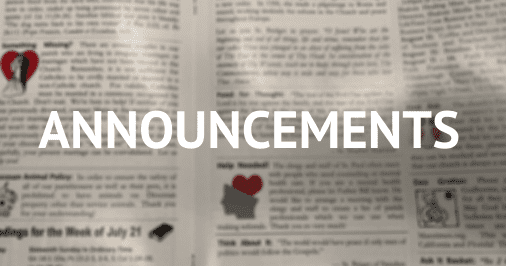 DIOCESAN OFFICES
from Catholic Scouting for Girls
Save the Date:  Girls Retreat
The Catholic Scouting for Girls of the Diocese of St. Petersburg invites all the girl scouts for their yearly retreat on April 1, 2023 at Light of Christ Parish, 2176 Marilyn St., Clearwater.   More information to come and in the flyer at this link:  https://tinyurl.com/bpa432yd.
PARISHES/ORGANIZATIONS
(The retreat below will be in Spanish only:  St. Andrew School of Evangelization will have a Spanish healing retreat in Most Holy Redeemer parish in Tampa Florida.  The retreat is called "Jose, el Soñador". It will take place on November 19 & 20 (Saturday & Sunday), from 8:00 a.m. to 6:00 p.m. both days.)

Retiro de Sanación: "José, el Soñador"
La Escuela de Evangelizacion San Andrés te invita a un retiro de sanación "José, el Soñador".
Sábado 19 de noviembre y Domingo, 20 de noviembre, 2022, de 8:00 a.m. – 6:00 p.m.  en la Parroquia Most Holy Redeemer, 10110 N. Central Ave., Tampa.
Nuestro presente está integrado tanto por las experiencias positivas como negativas del pasado, así como los sueños y objetivos del futuro.  Sin embargo, los sueños e ideales son capaces de redimensionar la historia, sanando las heridas del pasado para vivir intensamente nuestro presente. José, el Soñador, nos motiva a soñar para vivir con esperanza en este mundo.
Para más información, por favor contactarse con:
Elvira Hernandez: (813) 965-5829

Rebeca Avellaneda: (813) 577-2407

Most Holy Redeemer:  (813) 933-2859
Promotional flyer at this link:  https://tinyurl.com/293db6sv.
PILGRIMAGES AROUND THE DIOCESE

Parish Pilgrimages
If your parish is offering a pilgrimage within the coming months, we invite you to share this information with the Pastoral Bulletin: pastoralbulletin@dosp.org.  This allows readers to view opportunities to participate in an upcoming pilgrimage.  The pilgrimages are posted in the Diocesan website under the Pastoral Bulletin page at this link: https://www.dosp.org/pastoralbulletin/pilgrimages/.