Announcements ~ November 8, 2021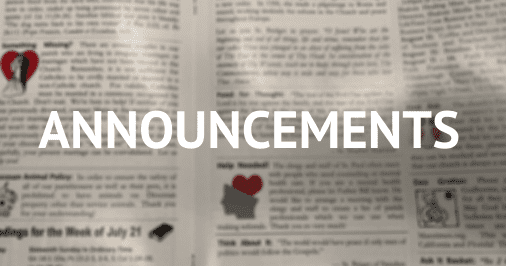 DIOCESAN OFFICES
Parish Resources for Year-End and Beyond
To assist parishes working to promote legacy giving, end of year generosity and/or new, creative options for giving with parishioners, the Catholic Foundation has created camera ready, downloadable materials and pre-drafted text for message development. Please visit the Parish Resource Page to download the following materials:
bulletin inserts and articles

text for article, pulpit and web news post development

social media graphics

graphic elements

information on the Donor-Advised Fund
If you have any questions, please contact the Catholic Foundation at foundation@dosp.org or call 727-374-0220.
---
Catholic Women's Conference
Every woman is invited to attend Spirit FM's 7th Annual Women's Conference on April 2, 2022. It will be held at the Florida State Fairgrounds, and tickets are on sale through myspiritfm.com/womensconference.



Flyer at this link.
---
Did You Know?
Dangers of Cell Phone Cameras
Cell phones with photographic capability are a mixed blessing. Forget your camera?
Whip out the cell phone, and your toddler's first step, friend's goofy mishap, or fenderbender is captured for posterity.
But cell phones are also being used in a sinister way—to silently take pictures of unsuspecting children, adolescents, and adults in compromising positions and without their consent. Plus, unlike conventional photographs, digital photos can be placed on the Internet very quickly—within minutes of taking the photo—and distributed around the world. In fact, some Web sites have been created for the sole purpose of posting photos taken surreptitiously with camera phones.
Develop a healthy suspicion of anyone using a cell phone in an awkward way, such as not holding it up to his or her ear or facing his or her mouth in a walkie-talkie style. Be especially cognizant of any suspicious cell phone use in areas where people could be in various states of undress or where children are gathered. If you see someone using a cell phone in a way that appears suspicious, don't be afraid to ask what he or she is doing or to alert someone in a position of authority about your concerns.
For particular help you may call: Michael Craig, Safe Environment Program Manager at (727) 344-1611, ext. 5377.
Source: Donna Albertone, "Taking a Closer Look at Cell Phone Video Voyeurism," featured March 7, 2005, at www.virtusonline.org/virtus.

PARISHES AND ORGANIZATIONS

Second Annual Organ Recital
Christ the King Parish, 821 S Dale Mabry Hwy, Tampa, invites you to the second annual Organ Recital. Some of Tampa Bay's finest organists will pull out all the stops in a group recital showcasing the largest church organ in south Tampa. Nine organists of the Diocese of St. Petersburg will display their talents on the recently renovated hybrid-pipe organ at Christ the King Catholic Church.
The recital has become an annual tradition to mark the parish's patronal feast of Christ the King. The one-hour program Sunday, November 21st at 3:00 PM will include virtuosi masterworks as well as popular favorites. Admission is free.
For more information, visit our website at ctk-tampa.org or contact Stephen Banyra at sbanyra@ctk-tampa.org.
---
Who are the Florida Martyrs?
Begin this Advent season by learning about these amazing and inspiring witnesses of the Catholic faith. Fr. Len Plazewski, Pastor of Christ the King Catholic Church in Tampa and Vice-Postulator for the Cause of the Florida Martyrs, will share this incredible story of this group of missionaries, lay men and women, who gave the ultimate testimony of their lives in what is now Florida. He will also share about the process of canonization and where this cause stands. Be prepared to be inspired and amazed at the heroic testimony of men, women, and children all in the name of Christ!
Join us on Monday, November 29, 2021 at Sacred Heart Parish, 32145 St. Joe Road in Dade City from 7:00 PM to 8:00 PM. All are welcome! Registration not required.