Announcements ~ November 9, 2020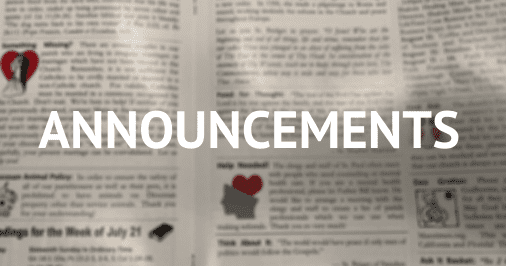 DIOCESAN OFFICES
A View from the Top
In this edition of A View from the Top, Bishop Parkes discusses praying for victories, superstitions and faith, election takeaways, the beatification of Father Michael McGivney, COVID-19 and holidays and a salute to veterans.
---
Our Diocesan Commitment to Safe Environments
In October 2018, the former Florida Attorney General announced an investigation of the State's seven Catholic Dioceses to determine how allegations of sexual abuse of minors by clergy have been handled. We welcomed the State's investigation and we cooperated fully with the process instituted to research past cases of abuse allegations, dating back prior to 1968 when the Diocese of St. Petersburg was established. To see a copy of the report from the investigation, please go to http://myfloridalegal.com. A response from the Diocese of St. Petersburg can be found at https://www.dosp.org/news/.
---
Monthly Conversations about Race
Join us for monthly conversations about race. Our next event will be hosted on Zoom on Thursday, November 19, from 7-8 PM. The topic for the night will be The Result of No Action: Why We Need to Work Together for Justice. Speaker will be Dr. Moneque Walker-Pickett, Professor and Associate Chair of the Department of Criminal Justice at Saint Leo University. Prayer and small group discussion will be included. Register at dosp.org/life.
PARISHES AND ORGANIZATIONS
Join us for Catholic Charities Ministries of Mercy 75th Anniversary Celebration
Catholic Charities will gather virtually to celebrate its special 75th anniversary. You're invited to tune in to Facebook Live at 6:00 pm on Friday, November 20, 2020 for uplifting stories of overcoming adversity and musical entertainment. Please pledge your support for Catholic Charities' mission through donation opportunities. Text MERCY to 91999 to donate online (https://igfn.us/f/1d5p/n), purchase a $75 Party Pack or donate to spend a night in a Hope Cottage™! To learn more, let us know you are attending or watch live: https://fb.me/e/5GVHTMm4b or www.ccdosp.org/fblive. This celebration will be hosted by CBS Channel 10 feature reporter, Bobby Lewis (Promo video: https://vimeo.com/475201685).
Email catholiccharitiesdosp@gmail.com with questions.

Other Bulletin Announcement suggested text at this link: https://bit.ly/2UcG3IV.
---
Saint Leo University Creates News Tuition, Financial Aid Program
Saint Leo University believes earning a degree should be accessible, affordable, and obtainable for learners everywhere. The university launched the Dare to Roar program, offering multiple options to help students cover the cost of their education and join the Lions community.
Saint Leo also has expanded and updated its Catholic Promise Award. It now provides a stackable award of $3,000 per year for students working toward a bachelor's degree. More information can be found at https://www.saintleo.edu/daretoroar.