Announcements ~ October 23, 2023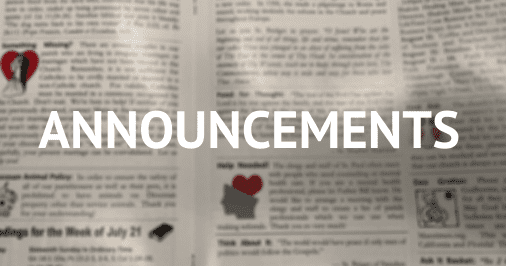 DIOCESAN OFFICES
Evening Prayer with the Conferral of the Saint Jude the Apostle Medals
Sunday, October 29, 2023, 3:00 p.m.
Every year, the St. Jude the Apostle Medal is presented by our Bishop to a lay member from each of our parishes for distinguished and outstanding service. Whether it's advocating for the life of the unborn, serving as an usher at Mass, or leading a parish ministry, these men and women share the love of Christ in many visible ways. Whatever humble offerings they provide, they exemplify gratefulness to God's blessings in their service to His people. The prayer service will be livestreamed at  dosp.org/livestream,  Facebook.com/DioStPete  and YouTube.com/DioceseofStPete.  To view the list of award recipients, visit www.dosp.org/bishop/st-jude-medal-awards.  (Note: Photos of the award recipients will be on ourFlickr Page by November 1, 2023.)
---
Mass of the Angels
The annual Mass of the Angels for children (born or unborn) who have gone to be with the Lord will be held on Saturday, November 4, 2023, at 1:30 PM, at St. Timothy Parish, 17512 Lakeshore Road, Lutz, FL 33558.
Families are invited to bring a picture of their child or children to be displayed during the mass. For more information or to have a child's name added to the program, please contact Heidi Varley at (727) 344-1611, ext. 5356 or email: lifeministries@dosp.org.
Flyer at this link:  https://tinyurl.com/bdvz9s2k.
---
Prayer Service for Mater Dei Giving Society Members
Members of the Mater Dei Giving Society will be receiving an invitation from Bishop Parkes to join him at an afternoon prayer service at the Cathedral of St. Jude the Apostle on November 19, 2023. A reception will follow the service.
Our giving society recognizes those who have supported diocesan ministries, Spirit FM, Catholic Charities and/or the Catholic Foundation in these ways:
1)         Individual/households giving 10 years in a row
2)         Individual/households that made a significant gift in the last year
3)         Individual/households committed to a legacy gift
4)         Business/organization making a significant gift in the last year
Pastors are welcome to join us for the prayer service and reception. Please RSVP no later than November 10th at https://www.dosp.org/materdei/rsvpnov19/.
If you have questions about the event or those being invited, please contact the Stewardship and Development Office at stewardship@dosp.org.
---
From the Office of Vocations
Come and See
The Come and See event is a great time for young men to visit and experience St. Joseph Seminary College in Louisiana.  There will be opportunities to meet seminarians, pray, and see the seminary.  Young men 16+ who are interested in going on the Come and See can register at https://dospvocations.org/events/st-joseph-seminary-college-come-and-see-2/.
National Vocation Awareness Week
National Vocation Awareness Week is November 6-10, 2023.   Join us for Mass and Adoration at different locations as we pray for vocations. Monday 11/06 – Our Lady of Grace, Beverly Hills.
Tuesday 11/07 – Christ the King, Tampa.
Wednesday 11/08 – Our Lady of the Rosary, Land O Lakes (Spanish).
Thursday 11/09 – St. Joan of Arc, Springhill.
Friday 11/10 – Cathedral of St. Jude, St. Petersburg (with Bishop Parkes).
For more information click here https://dospvocations.org/events/national-vocation-awareness-week-2/
You can see all events at https://dospvocations.org/upcoming-events/.
PARISHES/ORGANIZATIONS
On the Spirituality of St. Francis de Sales
Parish Mission November 10-15, 2023
Epiphany of Our Lord Catholic Church, 2510 E. Hanna Ave., Tampa, 33610
Guest Speakers:  Canon Matthew Talarico, ICKSP & Canon Aaron Huberfeld, ICKSP
Talks at 10:00 am and 7:00 pm (w/Confessions during Conference)
Free and open to the public.
---
Magnificat Breakfast
Magnificat of St. Petersburg is excited to welcome all women to our next MAGNIFICAT MEAL-BREAKFAST from 9:30 AM—12:15 PM, on Saturday,  November  18, 2023,  held in the Parish Center at the Cathedral of St. Jude the Apostle, 5815 Fifth Avenue North, St. Petersburg, FL  33710.   Please also join us for St. Jude's parish Mass held in the Cathedral at 8:15 AM.
If you have any questions, please feel free to text Linda 727-415-2693 or Jane 727-452-7404 or email: magnificatofstpetersburg@gmail.com   or check our website at https://magnificat-ministry.net/chapters/fl-st-petersburg/.
PILGRIMAGES AROUND THE DIOCESE
Parish Pilgrimages If your parish is offering a pilgrimage within the coming months, we invite you to share this information with the Pastoral Bulletin: pastoralbulletin@dosp.org. This allows readers to view opportunities to participate in an upcoming pilgrimage.
The pilgrimages are posted in the Diocesan website under the Pastoral Bulletin page at this link:  https://www.dosp.org/pastoralbulletin/pilgrimages/.