Announcements ~ October 3, 2022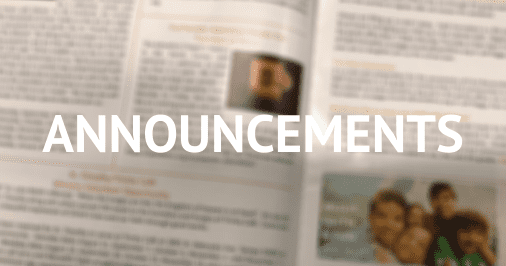 DIOCESAN OFFICES
Did You Know?
Assistance Ministry Helps Abuse Victims
Did you know that outreach to victims of sexual abuse is one of the ministries offered by the Diocese of St. Petersburg? The diocesan Victim Assistance Coordinator provides assistance towards healing by means of therapy, spiritual direction, and mutual support groups.
If now, or at any time in the past, a priest, deacon, or other person representing the Church has sexually abused you, you are urged to contact John Lambert, Victim Assistance Coordinator at (866) 407-4505.
For particular help you may also call: Michael Craig, Safe Environment Program Manager at (727) 344-1611, ext. 5377.
---
St. Stephen Gathering
Thursday, October 27th 2022, 6:30 pm – 8:00 pm
Pastoral Center, 6363 9th Ave. N., St. Petersburg, 33710
Bishop Larkin Conference Room
As we prepare for a new Formation Year, the Office of the Diaconate will be hosting a final St. Stephen Gathering for those interested in learning more about the Permanent Diaconate.  If you have someone in your community who may have expressed an interest in the Diaconate, please feel free to invite them, along with their wives, and better yet, join them for this evening.  Please contact the Diaconate Office via phone (727) 341-6826 or diaconate@dosp.org to reserve a spot now.
PARISHES/ORGANIZATIONS
Annual White Mass
The annual White Mass will be held Saturday October 29, 2022, for physicians, medical students, and other healthcare professionals in our diocese.  Most Rev. Gregory Parkes, Bishop of St. Petersburg, will preside at this 4:00 pm Vigil Mass at Our Lady Queen of the Angels Chapel at Christ the King Church,  821 S. Dale Mabry Hwy., Tampa.
Dinner with speaker Dr. Tom McGovern (award-winning podcaster and author) to follow Mass.
Registration link:  www.flcma-22.ticketleap.com/tampawhitemass22/.
For questions, email Dr. Rob Hamill, President, at tampawhitemass22@gmail.com
Organized by the Catholic Medical Association "Tampa Bay Guild of St. Philomena".
---
St. Lawrence Catholic School Open House
All are invited to St. Lawrence Catholic School's Open House on October 27th, 2022, beginning at 9:00 a.m. in Higgins Hall.   This is a great opportunity for families with children going into Early Childhood 3 through 8th grade to check out all St. Lawrence offers to its students and families. This event is located at 5223 N Himes Avenue, Tampa, FL, 33614.
Please RSVP to lilianne@stlawrence.org or (813) 879-5090 Ext. 230.  See you there!
PILGRIMAGES AROUND THE DIOCESE
Parish Pilgrimages If your parish is offering a pilgrimage within the coming months, we invite you to share this information with the Pastoral Bulletin: pastoralbulletin@dosp.org.  This allows readers to view opportunities to participate in an upcoming pilgrimage.  The pilgrimages are posted in the Diocesan website under the Pastoral Bulletin page at this link: https://www.dosp.org/pastoralbulletin/pilgrimages/.