Announcements ~ September 5, 2023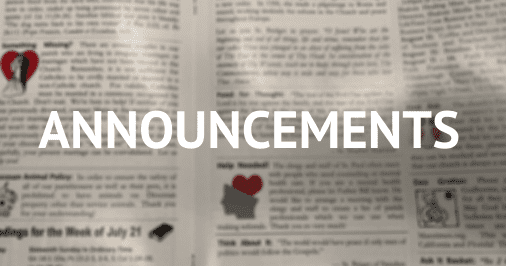 DIOCESAN OFFICES
Bishop Gregory Parkes Sends $100,000 Donation for Maui Wildfire Relief
The tragic wildfires on the island of Maui, Hawaii have left the town of Lahaina, located in the Diocese of Honolulu, mostly devastated. To assist victims, Bishop Gregory Parkes sent a donation of $100,000 to the Diocese of Honolulu on August 18, 2023. This gift was made possible from donors to the Diocese of St. Petersburg Disaster Relief Fund. To support victims of natural disasters, visit www.givecentral.org/dospdisasterrelief.
---
Did You Know?
Ensuring Your Child's School Is Safe
Every teacher, coach, and volunteer who works with children in the parishes and schools of the Diocese of St. Petersburg must have a background check before he or she is permitted to work in any school- or parish-related job or activity that involves contact with children. But what about the children who attend non-Catholic private or public schools?
Talk with school administrators and find out what steps they take to protect children from harm.  Suggest that they review other abuse prevention programs to ensure that their policies and practices are up to date. And demand that all employees and volunteers who work in the school be properly screened, including background checks, before they are allowed to be near your children.
For particular help you may call: Michael Craig, Safe Environment Program Manager at (727) 344-1611, ext. 5377.
---
Office of Life, Justice & Advocacy
Courage
"These men and women testify to the power of grace, the nobility and resilience of the human heart." – Cardinal Robert Sarah
Courage is a group of Catholics who experience same-sex attractions and who strive to live chaste lives marked by prayer, fellowship and mutual support.

For more information, visit  www.couragerc.org or contact our Diocese's chapter at 727-223-1666 or email:  courage.tampabay@gmail.com.
EnCourage
EnCourage members are parents, spouses, siblings and friends of people who identify as LGBTQ.  They are looking for help to keep the faith and keep the family bonds intact.
For more information, visit www.couragerc.org or contact our Diocese's chapter at 813-591-3766 or email encourage.tampabay@gmail.com.
Quick view resources:
Formed.org under the "study" tab, then "current topics", then "special topics":

Desire of the Everlasting Hills (one hour documentary)

Invited to Courageous Love – This five-part film series (25 minutes each) explores Catholic teaching on a wide range of questions connected to same-sex attraction
Courage logo available at this link:  https://tinyurl.com/ysd4tymb.
---
Concierto Avivamiento Eucarístico
Católico Hoy Radio y Suncoast Catholic Ministries te invitan a un evento que promete ser muy especial en este segundo año del Avivamiento Eucarístico en nuestras parroquias.  El concierto Avivamiento Eucarístico será totalmente en español con música por reconocidos artistas internacionales para alabar y glorificar a nuestro Dios.  Esto será el sábado, 16 de septiembre de 2023, comenzando a las 6:00 p.m. en el gimnasio de la parroquia Nativity (705 E. Brandon Blvd., Brandon).  Tendremos la participación de los siguientes artistas: Alfareros desde la República Dominicana, y Will el Salmista y Quique López desde Puerto Rico.  Para obtener más información y boletos pulsa aquí o llámanos al 813-922-2991. ¡Te esperamos!
Catholic Eucharistic Revival Concert
Católico Hoy Radio and Suncoast Catholic Ministries invite you to an event that promises to be very special in this second year of the Eucharistic Revival in our parishes.  The Eucharistic Revival concert  will be entirely in Spanish with music by renowned international artists to praise and glorify our God.  This will be on Saturday, September 16, 2023, beginning at 6:00 p.m. at the Nativity Parish Gymnasium (705 E. Brandon Blvd., Brandon).  We will have the participation of the following artists:  Alfareros  from the  Dominican Republic, and Will the Psalmist and Quique López from Puerto Rico.  For more information and tickets click here or call us at 813-922-2991.  We hope to see you at the concert!
Flyer at this link.
PARISHES/ORGANIZATIONS
St. John Vianney Church Grief Support Workshop
Are you grieving the loss of a loved one and looking for faith-based support? Join the St. John Vianney St. Pete Beach Bereavement Ministry for a five-week grief support workshop.
Video presentations include two priests, and John & Sandy O'Shaughnessy from Good Mourning Ministry – a Catholic bereavement organization.
Sessions: Tuesdays, from 6:00 PM – 8:00 PM, on Oct. 3rd, 10th, 17th, 24th, and Nov. 7, 2023.
Registration information:  Sr. Marydolores (727) 360-1147 ex. 223
---
Is God Calling you to be a Secular Franciscan?
Walk in the footsteps of St. Francis following the Gospel life as a Secular Franciscan.  We are your neighbors: practicing Catholics, single and married, mothers and fathers, brothers and sisters, students and professionals.  Together and individually we pray, study and live the Gospel.  If you're interested, please contact:
Tampa:  Sandi Scionti, 813-690-8305, sciontis@verizon.net
North Tampa:  Cathy Goldie, 813-850-6868, cathy.goldie@hotmail.com
Clearwater:  Rachel Ahern, 727-492-5666, nycandqingdaom@gmail.com
Sun City Center:  Kristine Littrell, 585-455-7410, kmlittrell@gmail.com
---
The Cornerstone Catholic Scripture Study
You are invited to join The Cornerstone Catholic Scripture Study to study The Prophets of the Old Testament. This Study is open to men and women and meets on Wednesday mornings beginning September 13th from 9:30AM until 11:30AM at the DuBois Center at Our Lady of Lourdes Catholic Church in Dunedin. For more information visit our website at www.TheCornerstoneScriptureStudy.org or call Mary at 727-791-3240.
---
2023 Men's Resurrection Experience: A Catholic Weekend Retreat for Men
Friday, September 15th to Sunday, September 17, 2023
Guest Speaker – Hector Molina, International Evangelist / Catholic Answers
Location: The Bethany Center, 18150 Bethany Center Dr, Lutz
The experience begins on Friday night at 7: 00 pm and concludes with a Mass on Sunday at 2:00 pm.  Cost is only $195 for three days/two nights retreat weekend which includes accommodations and meals.
To register, please contact Al Larson at 813-230-9152 or by email: Alarson1@tampabay.rr.com.
Flyer at this link:  https://tinyurl.com/yuwhyvam.
PILGRIMAGES AROUND THE DIOCESE

Parish Pilgrimages
If your parish is offering a pilgrimage within the coming months, we invite you to share this information with the Pastoral Bulletin: pastoralbulletin@dosp.org. This allows readers to view opportunities to participate in an upcoming pilgrimage.
The pilgrimages are posted in the Diocesan website under the Pastoral Bulletin page at this link:  https://www.dosp.org/pastoralbulletin/pilgrimages/.